Women's Group
The NUUC Women's Group fosters friendship and connections between the women (and friends) of Northlake through fun, education and shared interests.  We grow through sharing our lives and experiences; when conditions permit, we foster learning by attending events or taking group field trips.
Meetings are usually held on the 4th Monday of each month at 7-8:30PM.
During 2021, until conditions permit otherwise, the online meetings will be held via ZOOM.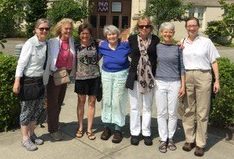 Structure of Meetings
Evening Meetings – Our meetings include opportunities to:

Get acquainted (social time, introductions, individual check-ins)
Deepen our understanding and spirituality (chalice lighting, meditations, readings, poems, songs)
Share and learn more via presentations, discussions or activities.
Recent member-led sharing discussions have featured topics such as:  My Favorite Art, Outdoor Places to Love, Impactful Holidays, Delighting in Picture Books
Excursions (on Saturdays, pre-Covid) – destinations included: Wing-Luke Museum, University of Washington Arboretum and  Northwest African American Museum.
Covenant of Relationships among Women's Group Members
We come together as women of NUUC to have fun, socialize and expand our horizons.
We freely explore our values and honor our diversity as a source of strength.
We openly share our laughter and tears.
We respect the privacy of information shared at the meetings, but realize that our gatherings are not therapy sessions.
We communicate with kindness and support.
We strive to limit cross talk, to allow others the opportunity to share their thoughts and ideas without interruption.
We speak up and engage with the group so everyone can benefit from our thoughts and ideas.
We RSVP when requested and, if we must cancel, do it in a timely manner.
We arrive on time for our events and bring our whole mind and spirit to the gathering.
We show respect for our church community and for the inter-dependent web of life in all that we do.
Steering Committee
The scheduling, topics and procedures of the group are managed by a Steering Committee of five members.
Suggestions for our group or meetings?  Contact a Steering committee member (2020-21): Carolyn H., Melissa A., Kate C. Mary Ellen R. Diane D.