Celebrations of Life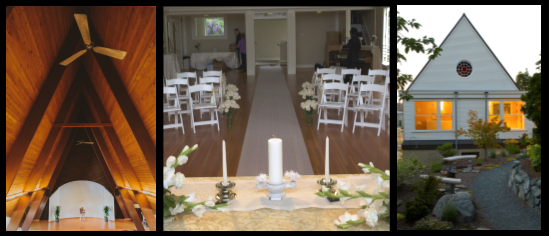 In your time of loss, the logistics of finding a venue for a memorial service can feel overwhelming. Northlake Church in downtown Kirkland makes its beautiful facilities available to the greater community, and our rental coordinator will help you to feel supported and cared for at a difficult time after the death of a loved one. We have an elegant sanctuary that seats up to 225 attendees, or can be divided into seating for the ceremony in the front, and tables in the back for gathering with friends and family after the service. Or, you might choose our more intimate historic chapel for a smaller ceremony or wake for under 100 attendees.
Our minister, Rev. Nancy Reid-McKee, may be available to perform your funeral ceremony at Northlake or at another location. You are also welcome to bring your own officiant. Northlake is a welcoming and affirming congregation, where all faiths and traditions are welcome. Northlake Church is very flexible. We are honored to work with all clients to craft a special ceremony that truly honors your loved one.
Please call us at (425) 822-0171, or email the rental office, to inquire about our availability and pricing for funerals.