Facility Rentals
FACILITY RENTALS AT NORTHLAKE CHURCH IN KIRKLAND, WA
Facilities at Northlake are available for rent to private individuals and non–profit organizations for a variety of purposes.
Available rooms include:
Sanctuary: seats up to 225 theater-style, or up to 185 at tables. Learn more about sanctuary rentals.
Chapel: seats up to 120 theater-style, or up to 75 at tables. Learn more about chapel rentals.
Conference room: Large conference table seats 10, can also seat 6—8 around the edges of the room, for a total capacity up to 18. Comfortable chairs, white board, CD player, and large flat screen TV which can be used for Power Point, for displaying your desktop for the group, or for video-conferencing. (Wifi available.)
Classrooms: Our classrooms can be rented for a variety of purposes, including classes, meetings, conferences, staging or set-up areas. They range in size, appearance, and availability.
Kitchen: stove, oven, microwave, refrigerator, industrial sinks, and some counter space. Downstairs. If you use the kitchen (or kitchenette), or your caterers use it, you must ensure that it is completely cleaned after use.
Kitchenette: by the foyer near the sanctuary. Microwave, refrigerator, coffee makers, dishwasher, sinks, and a small amount of counter space.
Playground: we have an outdoor area with a climber, which may be available to renters, if approved in advance, and with supervision by a responsible adult.
Parking: We have a parking lot for the use of our members and renters. Although we do not rent out parking spaces to individuals, we will contract with parking management companies looking to lease spaces for weekday use on a long-term basis.
We are located near downtown Kirkland, WA, convenient to Seattle and to Eastside cities, including Redmond and Bellevue. We are a short walk from the Kirkland transit center, and from hotels and numerous restaurants.
Click on either map for a larger image.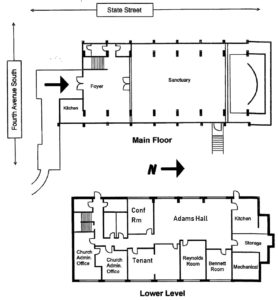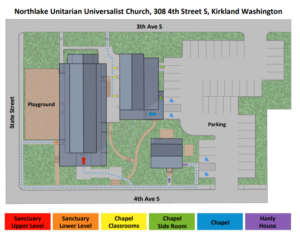 Northlake facilities are a suitable venue for a very wide range of activities. Here is a sampling of renters we have worked with:
Weddings, renewal of vows, anniversary parties, birthday parties, and memorial services.
Retreats, both spiritual retreats and company retreats for work or for non-profit organizations. Meditation sessions.
Conferences for 200, meetings for 20, support groups for 10, or conference sessions for 2.
Daycares, preschools, a middle/high school looking for a long-term home.
Summer camps, spring or winter break camps, scouting programs, children's art classes, private music instruction, tutoring, after school enrichment programs for kids.
Parties or picnics for kids with an indoor space and the outdoor playground to allow for flexibility when it's hard to predict whether the weather will be nice.
Art programs for adults, such as watercolor workshops, flower arranging classes, and quilting days.
Yoga, dance classes, and exercise classes. Rehearsal site for theater programs and choral groups.
Gardening and bird-watching classes.
Rummage sales and craft fairs.
Long-term office space or gathering space for non-profit organizations.
Whatever event you seek a venue for, you can contact our rental office (by email, by phone at (425) 822-0171) to see if we are a good fit. Learn more on our rental pricing and policies page.