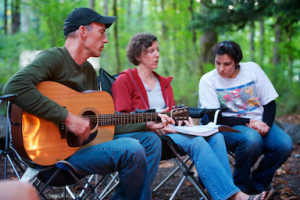 The Camping and Hiking Group hosts an annual  Campout, usually over Labor Day Weekend,  at one of the wonderful state parks in Washington.  There are campfires with singing and marshmallows, a group potluck meal, and outings that could be up a mountain or to a local cidery or local nursery.  Or you can sit by (or in) the river and read a book.  Kids get to be kids and sometimes get into the wackiest adventures!  We really enjoy Dosewallips State Park and South Whidbey State Park, and we've tried various others as well.  If you are in need of equipment to join in the fun, let us know.
---
2017 Campout — August 12 — Dosewallips State Park
The Northlake group camping trip is timed to be able to watch the Perseid meteor shower on August 12.  We'll be in Dosewallips State Park at the Riverside Group Camp and we'll head out to the beach after dark to watch the star show.  No Labor Day campout this year.
---
Chair: Cyndy J.
Email the Camping and Hiking Group
Meeting Time/Location: As desired