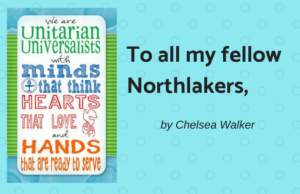 Hello! I'm Chelsea W., and I recently took over the role of Worship Team Leader from Chris K. The bright summer day when I walked into Northlake for the first time doesn't feel like all that long ago, but Northlake has quickly become my spiritual home, and the place where my beloved community resides. Every week, I can't wait to walk back through the doors to see all of your smiling faces, to hear about your joys and your sorrows, and to work together with all of you to create something larger than any of us could create alone.
The worship team has a lot of opportunities to participate in the creation of something larger than oneself, and we'd like to invite you all to join us. We have roles for people of all different interests and skill sets, and I personally am incredibly passionate about making the worship team a welcoming place for people to grow into new skill sets where they have interest.
Let me tell you a bit about some of the ways you can get involved with us:
At a high level, the worship team does two important things for Northlake. We gather together on a monthly basis to discuss ideas for how to improve services at Northlake, and we provide a lot of the effort and volunteers to put on the weekly services.
If you'd like to help steer the spiritual direction of Northlake, discussing how best to lay out services, supporting Reverend Jim, and crafting our processes for ensuring that everything is where it needs to be and everyone knows what they need to know before a service starts on Sunday, you may enjoy meeting with us at our monthly meetings, which occur in the conference room at Northlake at 7:00pm every second Thursday of the month. Feel free to drop in for one or more of these as you please, and consider joining the worship team if this work turns out to feed your spirit.
If you'd like to help out on a more sporadic basis, perhaps just a few Sundays a year, you might consider volunteering to help with the production of services by taking on one or more of the roles below.
The celebrant welcomes everyone to Northlake, delivers the announcements, centers us in the service, and prepares us all for our speaker. This role involves a great deal of public speaking, but we have a thorough script for you to work from, so it can be a great way for people (like me) who are comfortable speaking in front of a group, but aren't great at improvisation.

The projectionist sits at the back of the sanctuary and switches through slides which let us all know about upcoming events, complement the Sunday message, and let us sing along with the hymns while looking up and at each other rather than down into a hymnal. This role is a fantastic way to get started helping out with Sunday services, and we provide the slide deck, along with notes so you know when to switch slides.

Speaking of the slide deck, the slide creator prepares the slides a few days before the service by incorporating announcement slides, hymns, photos and videos, the slides for the offering, and any other slides that are needed each week. This role is great for people who can't attend Sunday services or people who want to be able to relax and enjoy the service on Sunday, but still want to be involved. This can be a great role for people who are more comfortable with computers than public speaking, or it can also be a great way to learn a little more about technology for the technologically impaired.

The audio person ensures that we can hear the speaker and celebrant, and that the microphones are only turned on at the correct times so we don't hear the loud clunks of microphones being set down or handed over. This role can be a great way to learn about sound systems, but we also have the system set up so you primarily just need to mute and unmute microphones at the right times, so it's also pretty quick to pick up.

And finally, we have a volunteer who handles "setup and reset". This entails setting up the space so there is a pulpit for the celebrant and speaker, a joys and sorrows table to share our excitement and our concerns with our community, and a chalice to light, and baskets to collect our offering, etc. This can also be a great role for people who would like to relax and enjoy the Sunday service, and we have a thorough checklist which lists everything that needs to be set out and where those things can be found.
If any of the above roles sound interesting to you, and you'd like to learn more, send me an email and I'll get back to you with more information! And don't feel like you're signing up to help forever by reaching out or volunteering for a Sunday or two– we're happy to have your assistance for only as long as you're happy to provide it.
The worship team also gathers together in the sanctuary at 12:00 pm after most services to discuss how the recent service went and what could be improved upon, so also feel free to join us for that discussion at any time regardless of whether you are assisting with Sunday services or not.
I'm looking forward to working with each of you,
~ Chelsea W.