Northlake Lighthouse – March 2020
This Month's Theme: Wisdom
"Listen: a wisdom within you calls to a wisdom beyond you and in that dialogue lies peace."
Where do we find wisdom? Do we trust the wisdom of our intuition? What external sources do we look to for insight beyond our own understanding? In this month, we will explore the sources of wisdom, both internal and external, that help us to navigate our lives.
---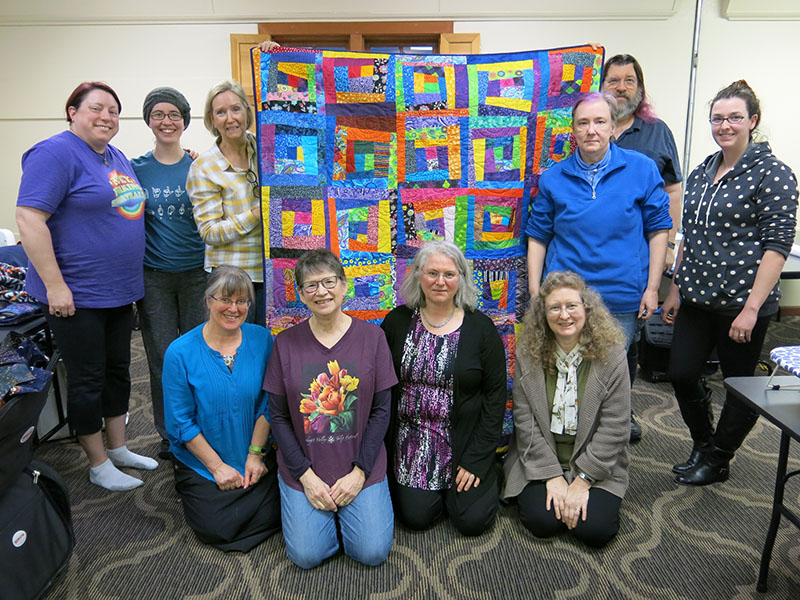 Northlake Seamsters Creative Union – The Sandy Quilt
– Sarah G.
Northlake Seamsters Creative Union was founded in 2001 by current member Kathy Macdonald as a group of people who were inspired by fiber arts. Since that time, the group has grown, changed their name to the Seamsters Creative Union, and welcomes artists of all types—novice, expert, and everything in between. The group's mission statement is: To create, promote, and support art and beauty within the Northlake community.
The Seamsters work directly with Northlake to beautify and improve our buildings and its spaces. They have given money for things like purchasing our pulpit, hanging art in the sanctuary, and most recently helping to design the new doors in the main building. In the larger community, various charity projects are undertaken as a group, such as quilts for the NICUs at Evergreen Hospital and Highline Hospital, and handmade lap blankets for hospice patients.
Last year, we lost long-time, beloved Seamsters member Sandy Peterson to cancer. Our February retreat over President's Day weekend followed soon after, and we decided to make a quilt together in honor of Sandy. It will be donated to a group for which Sandy herself made many quilts, The Women's Veteran Social Justice Network. Pictured above is that collaborative quilt that many of our Seamsters helped to make. Picture credit goes to Sara Ingersoll.
---
COVID-19 Update: Minister's Message 
Caring for yourself and your spirit during a crisis:  We are all feeling the impact of the pandemic coming to Kirkland.  You are not alone.  You are part of the Northlake community, and we are here for each other.  This means we take care of each other, especially the most vulnerable among us, by not risking spreading the infection.  Because of this, we have the opportunity to show extra love and care!  Here's how:
Starting this Sunday, March 8th, the morning worship service will be available only on our Zoom platform.  The building will be closed on the recommendation of the health department.  Our service will start at 10:25, our usual time, and we will have music, a homily, guided meditation, and time we share our thoughts, joys and sorrows together.  (More details below)
Please take time to learn how to use Zoom before the service!  Do it today if possible, but we will have someone who can help you on Sunday morning.  I would urge you to join the meeting 5-10 minutes early so we can help you with any glitches.
Chalice Circles:  Because we can't meet in large groups, we are going to begin Chalice Circles that will be on Zoom.  A Chalice Circle will include a facilitator and 8-9 folk who will commit to gathering once a week.  Each group will have a topic that the facilitator will introduce, followed by time for people to share thoughts together.  We are beginning these now because we need every opportunity to see each other and remind each other that we are here and connected during the next few weeks.  If you wish to be part of a Chalice Circle, please email me (nreidmckee@northlakeuu.org).  We will offer this also by email for those who prefer to not use Zoom.  Register with Margaret (dlre@northlakeuu.org)
Daily Chalice:  At 12:30 each day I will join a Zoom space where I will have a reading, and a time to check-in with everyone who calls.  This will begin Monday, March 9th-15th. Here is the Zoom ID number: 324-191-042
Checking In:  Starting next week, Rev. Jim and I will begin calling or emailing everyone we have contact information for.  We want to make sure you are doing well, and see what spiritual and physical concerns you may have.  We have also established the COVID-19 Caring Team, a group of members who will be paying close attention to some of our older and more isolated folk.
Ministerial message:  This is a time to show the deep care we hold for each other.  Reach out with calls, letters and emails.  My prediction is that this crisis will last at least 4-6 weeks.  My hope is that with warmer weather it will start to dissipate, but we may not be back together in our building for many weeks.  So we need to be deliberate in our efforts to have close community.  We each may need to move out of our comfort zone.  And please remember I am here for you.
I am holding you in my heart and in my prayers.
Blessings-
Rev. C. Nancy Reid-McKee (she/her)
Northlake UU Church
---
No onsite Sunday meetings during COVID-19 (coronavirus) outbreak
Sunday service
Northlake UU will be holding online-only services starting Sunday, March 8. Please join us by zoom using the link below:
Zoom will prompt you to download software or the app for phone or tablet. Questions? Email dre@northlakeuu.org.
Tech help will be available from 10:15 – 10:25 am. Click into the meeting, check your audio and video connection, then grab a cup of tea! Service will begin at 10:30.
Children's Religious Education
We will be offering a zoom option for families to connect Sunday mornings during this time, with a chalice lighting, a story engaging with our theme of wisdom from the world's religions, discussion, and a time to share our joys and sorrows. Please join us at 11:30 am for a short time together.
Join Zoom Meeting:
https://zoom.us/j/309145529
Meeting ID: 309 145 529
A special Children's and Family zoom will begin at 11:30 am. Email dre@northlakeuu.org for the link and additional information.
Here are Zoom basics:
If you have never used Zoom on your device, do this setup (one time only)
Computer: go to Zoom.us and click join a meeting. This will prompt you to download the software. (You don't have to set up an account or provide your contact information, but you will need to download and install Zoom). You can also download the application.
Phone or tablet: go to App store and search for Zoom. Follow directions to install.
To participate in a Zoom meeting:
Open the Zoom App or go to zoom.us and click Join Meeting
Type in the meeting ID number.
You can also just click on a Zoom link provided in a meeting invitation and follow the prompts on your screen.
Zoom Best Practices:
Mute your device.
Log in 5 minutes before the meeting begins. Do a sound check and resolve any camera or video issues.
Want to learn more? Check out Zoom Getting Started.
---
Stay Connected
Please opt into the emergency notification systems that fit you the best:
Text notifications: Write a text message to the number 81010.The message to opt in is:  @stormnuuc
Email notifications: If you have not been receiving notices via email from the NUUC Response Team, email office@northlakeuu.org and ask to be included.
Northlake Talk (this is our congregational chat email) or Weekly E-News: email office@northlakeuu.org to be added to either or both lists, please specify.