Social Justice at Northlake
– Rev. Nancy Reid-McKee, Minister
Back in March we sent out a survey to the congregation to learn more about what Social Justice looks like at Northlake. We thought you might be interested in some of the information collected. We had 58 surveys completed and returned to us.
When asked what area of church life excites or inspires, the primary answer was that the Sunday Service was most inspiring (38 rated it as first), then came doing Social Justice activities and events (15), and then came our community gatherings such as potlucks or coffee hour (8), followed by a wide array of activities that engage folk.
When we asked what areas folk volunteer their time at Northlake for, outside of committee meetings, many come for work parties, yard work, letter-writing campaigns and to attend vigils or rallies. Outside of church people volunteer, but to a wide variety of organizations – there were over 50 listed!
People donate money to a wide array of organizations. First on the list was money to Northlake (THANK YOU!) (53), and second was National Public Radio (35). Then came American Civil Liberties Union (29), Planned Parenthood (26), Real Rent Duwamish (24), the UU Service Committee (21) and then the Southern Poverty Law Center (20). Other groups that get a number of supporters are: Unitarian Universalist Association, Black Lives Matter, Nature Conservancy and the Sierra Club. There were an additional 76 organizations listed that get donations from Northlake folk.
When asked what type of Social Justice activities people prefer, most chose Direct Service, which is providing meals or care directly to people in settings such as soup kitchens or shelters. The second activity people chose was education around an issue or topic, and third was doing direct action such as showing up to a rally, protest or vigil. The fourth choice was doing advocacy or legislative work at governance levels, and finally came organizing with other groups for collective justice work.
The Social Justice Development Team is looking at these results, along with Kirkland census data, the history of this congregation we have collected through interviews, and what local and statewide organizations are doing. With all of this we are creating a picture of what we as a congregation might be interested in, have the resources to do well, and act as allies with those most impacted.
We are working diligently, and our plan is to be able to present our recommendations in the Fall so that, as a congregation, we can decide where to place our energy and resources!
I am grateful for the thoughtful team putting time into this planning with me: Ellie P, Des P, Clark R, Steve W, Fran W and Margaret Rogers.
---
Love & Care
– Rev. Nancy Reid-McKee, Minister
Even during the best of times (and this past year has NOT been among the best of times!) each of us experiences moments of sadness, anxiety, loneliness or emptiness. This is part of the human experience, but that doesn't mean you need to be alone as this happens in your life. Please know that I want to be part of your life, both the joys and the hard times.
If you are sick, I want to come visit you. If you feel stuck, I would love to talk with you. If you don't know what you want or need, I am happy to have coffee with you or go for a walk.
When I think you might need someone to be with you I try to reach out, but I often don't know the details of your life, so I am asking for you to bless me by sharing them with me. And if I can't be there for you, we have a good Care Team that is longing for ways to show how we care for each other at Northlake.
You are not alone. Please remember this is a community where we want you to thrive.
---
Treaty People's Gathering
– Rev. Nancy Reid-McKee, Minister
On the first weekend of June I will be joining with activists and faith leaders from around the country in Northern Minnesota. The Indigenous/First Nations people have asked for a show of support as they work to halt the Line 3 oil pipeline that is due to pass under the Mississippi River that weekend. Not only does the pipeline violate treaties, it has a huge impact on the environment and it threatens the integrity of one of the largest sources of freshwater in the country.
If you don't know about Line 3, I invite you to research it more. If you are concerned, please support the indigenous folk who have united to try to stop the pipeline, and make sure you are not invested in the companies that profit from oil and gas.
---
Summer Worship
June 6th
Music Sunday, come enjoy a service put together by Jaie Teifenbrann with all the pieces created by the Northlake choir during the past year!
June 13th
Volunteer Sunday, we will acknowledge and shower appreciation on all those who have served Northlake this past year.
June 20th
Juneteenth, we will be joined by Rev. Anthony Johnson who will share the history of this date and what it means to our faith community.
June 27th
General Assembly Sunday, this will be the annual service shared by Unitarian Universalists across the country. Join with thousands of UU's on this special day of assembling together.
July 4th
"Where's Your Happy Place?" Rev. Nancy will kick off our summer services with this sermon on happiness.
---
Sunday, June 20th Speaker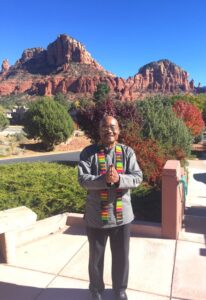 Please join us for a special speaker on June 20th. The Rev. Anthony Mtuaswa Johnson will join us from Sedona, AZ to give the sermon. He says:
Freedom Day or Juneteenth, as it is best known, is a holiday celebrating the emancipation of African Americans who had been enslaved in the United States. This sermon will share the history of this recognition of the date slavery was officially outlawed in the state of Texas and the meaning of freedom in the context of today's time of racial reckoning and reconciliation.
(photograph here?)
Rev. Anthony Mtuaswa Johnson, Mississippi born and Chicago bred, is an ordained Unitarian Universalist minister, speaker, writer, poet, producer, soldier, teacher, mentor and Elder. He is the former Minister of the Humboldt Unitarian Universalist Fellowship in Bayside, California and former Director of Congregational Life at the Unitarian Universalist Congregation of Phoenix, Arizona. His ministry is dedicated to Removing Unconscious Bias from the Soil of the Soul.
---
Transition and Transformation
– Diane D, Governance Committee Chair; Elaine S and Chris K, Governance Task Force
Northlake is making adjustments to improve governance. This is a short summary of the changes that will move Northlake to best practices and state-of-the art church operations.
For several years, Northlake's Board of Trustees has known that church policies and procedures needed attention. In October 2020, a task force convened to assess the status of the church policies. It rapidly became clear that much work would be required to reach best practices in church governance. The task force met weekly for seven months and will continue work going forward to complete the governance transition mentioned at the recent Town Hall and Program Council meetings by Ellie P, President; Chris K, GTF member; and Rev. Nancy.
Much of the task force work entails researching and documenting current governance and transforming those practices, with some improvements, into written documents that empower committees and teams with best practices. For example, the previous informal structure of the Program Council has been updated and provided with specific guidelines and precise responsibilities. Another example, the Executive Cabinet now has a roster of duties that provides individual church members access to governance and sets the agendas for congregational and town hall meetings. Five standing Committees have been chartered: Finance, Facilities, Human Resources, Communications, and Governance. Each committee has specific areas of responsibility. Currently the Governance Task Force is working with the Human Resources Committee policy work group to discern and update their subcommittee and task force policies.
We will continue to provide updates on the governance transition in future newsletters. If you have questions or suggestions, please send email to Diane D.
---
Puget Sound Worship Collaborative
In July and August, Northlake will be offering collaborative services with the Saltwater UU Church and the Tahoma UU Congregation, just like we did last year.
Each Sunday there will be a familiar face leading the service, either Jaie Teifenbrann (Music Director), Margaret Rogers (Director of Lifespan Religious Education) or Rev. Nancy Reid-McKee, joined by leaders from the other congregations. You will join with a zoom link just as you do every other Sunday, sharing the zoom service with members from all three congregations.
I hope you come meet UU's from the area as we worship together this summer!
---
UUSC's Virtual Human Rights Celebration
– NUUC Denominational Affairs team
The Unitarian Universalist Service Committee's 10th Annual Human Rights Award will be a virtual celebration featuring a conversation with U.S. Congresswoman Ayanna Pressley.
We have great respect and appreciation for Congresswoman Pressley's strong support for human rights and progressive change, including her co-sponsorship of the BREATHE Act, which UUSC strongly endorses.
The event will be an evening of hope and inspiration, to take place in advance of the UUA's General Assembly, on Thursday, June 17, 2021 4:00 PM PT.
If you would like to join in, you are asked to please register here. While donations are not required to attend, the UUSC asks that you please consider a special gift in support of UUSC's work to advance social justice around the world.


For additional details, please contact Elizabeth Auwood at eauwood@uusc.org.

---
Non-Fiction Anyone?
– Rev. Nancy Reid-McKee, Minister
June 12th will be the first meeting of our new book group "Books & Brunch". Our plan is to continue this through the year, gathering both on zoom and in-person, sharing food when it becomes safe. We hope all feel welcome to join us anytime to share company and get to know each other better.
Our first book (June) is by Rebecca Solnit, The Faraway Nearby. This is a superbly written series of essays that flow together to weave a pattern around stories and meaning, and how we experience life. I can't wait to talk about it with you!
Our July book is Subversive Southerner: Anne Braden and the Struggle for Racial Justice in the Cold War South by Catherine Fosl. We will not meet in August, but resume again in September with Active Hope by Joanna Macy & Chris Johnstone.
We plan to continue to meet the second Saturday each month at 10:30 a.m. in the Chapel at Northlake (and via Zoom)
---
It's almost time for the Northlake Labor Day Campout!
– Cyndy J.
The first year, nay the first month that our family arrived in the Pacific Northwest, there was a Northlake campout on Labor Day weekend at Whidbey Island. I knew this was my community right then and there.
We were spread through a few campsites and there was one campsite that had a big fire ring with lots of chairs around it. I learned about camping in the Pacific Northwest and got to know the People of Northlake. Oh, the people and their stories around the campfire (one guy's stories that ended in humorous disasters but started hopefully with "if I got a running start…") and hikes around Fort Ebey state park. What a wonderful introduction to Northlake.
I have been hosting the annual campout ever since because I love fostering the interconnection between people and the outdoors. I often help people put up their tents, some small and some ginormous. I've facilitated people just starting with camping, lending equipment, coaxing adventure, along with those who haven't camped in decades.
One year we made ice cream. One year a trio of youth floated a questionable rowboat down the Dosewallips River (they made it back to camp just before dark). One year we hiked a mountain.  One year we did a tour of the local hard cider establishments! One year it rained so much that everyone went home on Sunday morning. One year some of the people who were visiting for the day got locked into the park and had to rouse the ranger to unlock the gate (that park is off my list). Some years we have had sing-alongs with guitars and ukuleles.
Every year is different. But one thing is traditional: a potluck dinner on Saturday, with a Tex-Mex theme.
This year we are heading to Fort Flagler, which is on a peninsula close to Port Townsend. We have a huge grassy area that we can really spread out in. I'll bring badminton and bocce, games that can be played with social distancing. We can do some beach walks and go into Port Townsend. Or just sit and relax, read, or have philosophical discussions.
Come for one or two nights, or come for the day (and dinner on Saturday!).
RSVP or just show up. I divide up the fee after the weekend, depending on how long you stayed.
Let me know how I can facilitate YOUR love of camping!