MEANINGFUL MOVIES IN KIRKLAND
Northlake UU Church Sanctuary
308 4th Ave. S
Kirkland, WA 98033
Facilitated discussion follows the film.
Free and open to the public – donations kindly accepted.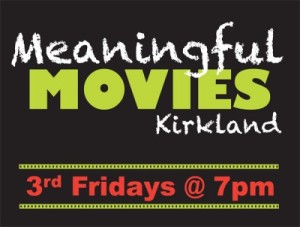 Friday, Mar 20 @ 7:00 pm – How to Save The World

(2015, Directed by Jerry Rothwell, 1 hr 50 min)
In 1971, a group of friends sail into a nuclear test zone, and their protest captures the world's imagination. Using never before seen archive that brings their extraordinary world to life, "How To Change the World" is the story of the pioneers who founded Greenpeace and defined the modern green movement.
RECENT MEANINGFUL MOVIES OF KIRKLAND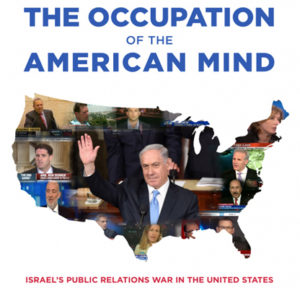 Friday, Mar 16 @ 7:00 pm – The Occupation of the American Mind

(2016, Directed by Loretta Alper & Jeremy Earp, 83 min)
Israel's occupation of Palestinian territory and blockade of the Gaza strip have triggered a backlash against Israeli policies virtually everywhere in the world — except the United States. The Occupation of the American Mind takes an look at this critical exception, zeroing in on pro-Israel public relations efforts within the U.S.
Narrated by Roger Waters and featuring leading observers of the Israeli–Palestinian conflict, the film explores how the Israeli government, the U.S. government, and the pro-Israel lobby have joined forces, often with very different motives, to shape American media coverage of the conflict in Israel's favor.
The Occupation of the American Mind analyzes Israel's decades-long battle for the hearts, minds, and tax dollars of the American people — a battle that has intensified over the past few years in the face of international condemnation of Israel's current right-wing policies.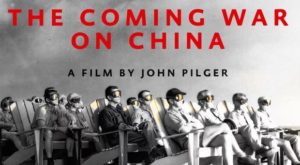 Friday, Feb 16 @ 7:00 pm – The Coming War on China

(2016, Directed by John Pilger 90 min)
John Pilger is an Australian journalist and documentarian.  The Coming War on China is his 60th film for ITV. Pilger reveals what the news doesn't – that the world's greatest military power, the United States, and the world's second economic power, China, both nuclear-armed, are each preparing for war. Pilger's film is both a warning and an inspiring story of resistance.
From a February 2017 review in the Australian:
"Whatever you think of Pilger, this is a film you should see. You may come out of it agreeing with him, disagreeing with him, or somewhere in between. But it's a live issue that could change the world, could end the world as we know it, and this dedicated journalist wants to make sure we know about it."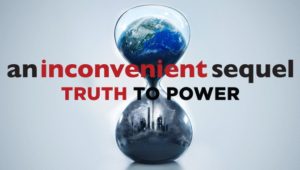 Friday, Jan 19 @ 7:00 pm – An Inconvienent Sequel: Truth to Power

(2017, Directed by Bonni Cohen & Jon Shenk, 98 min)
A decade after "An Inconvenient Truth" brought the climate crisis into the heart of popular culture comes the riveting and rousing follow-up that shows just how close we are to a real energy revolution. Former Vice President Al Gore continues his tireless fight, traveling around the world training an army of climate champions and influencing international climate policy. Cameras follow him behind the scenes — in moments private and public, funny and poignant — as he pursues the inspirational idea that while the stakes have never been higher, the perils of climate change can be overcome with human ingenuity and passion.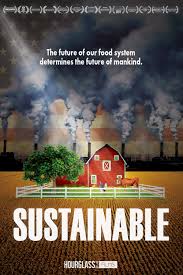 Friday, Nov. 17 @ 7:00 pm – Sustainable

(2016, Directed by Matt Wechsler, 52 min)
A vital investigation of the economic and environmental instability of America's food system, from the agricultural issues we face — soil loss, water depletion, climate change, pesticide use — to the community of leaders who are determined to fix it. Sustainable is a film about the land, the people who work it and what must be done to sustain it for future generations.
The narrative of the film focuses on Marty Travis, a seventh-generation farmer in central Illinois who watched his land and community fall victim to the pressures of big agribusiness. Determined to create a proud legacy for his son, Marty transforms his profitless wasteland and pioneers the sustainable food movement in Chicago.
Sustainable travels the country seeking leadership and wisdom from some of the most forward thinking farmers like Bill Niman, Klaas Martens and John Kempf – heroes who challenge the ethical decisions behind industrial agriculture. It is a story of hope and transformation, about passion for the land and a promise that it can be restored to once again sustain us.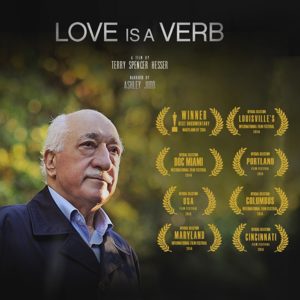 Friday, Oct. 20 @ 7:00 pm – Love Is A Verb

(2014, Directed by Terry Spencer Hesser & Stephan Mazurek, 55 min)
LOVE IS A VERB is about a worldwide social movement of Sufi-inspired Muslims called Hizmet – Turkish word for "service:. It is also called the Gulen Movement, after its leader, Fethullah Gulen, whom Time magazine named one of the most influential leaders in the world in 2013.  Gulen has lived in Pennsylvania since 1999, but has recently become a controversial figure, as Turkey's current strong man, Recep Tayyip Erdogan, wants him extradited to face charges of masterminding the failed 2016 coup.
Among the people profiled in the movie are teachers who crawled through a tunnel to open a school in Sarajevo during the war, a Sufi conductor of an orchestra of children whose parents were once at war with each other, and Turkish doctors in Somalia who are putting their lives at risk in a place other relief organizations have deemed too dangerous.
"This movement is not about individual enlightenment; [it] is about making the world a better place. But while making the world a better place . . . this altruism is also transformative." (Marcia Hermansen, Director of Islamic World Studies, Loyola University of Chicago)
Friday, September 15 @ 7:00 pm – Tickling Giants

(2016, Directed by Sara Taksler, 1 hr 51 min)
Take a feather and tickle a giant in the foot. It's a risk. Will the giant laugh or stomp you?
Tickling Giants tells the story of Dr. Bassem Youssef, the  "Egyptian Jon Stewart", who decides to leave his job as a heart surgeon and become a late-night comedian. The movie is about how he finds creative, non-violent ways to protect free speech and fight a president who abuses his power. Youssef's show was a force of nature. Thirty million people in Egypt watched each episode.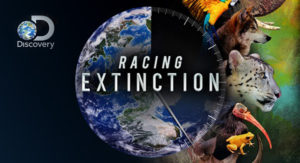 Friday, April 21 @ 7:00 pm – Racing Extinction
(2015, Directed by Louie Psihoyos, 90 min)
Scientists believe we have entered the sixth major extinction event in Earth's history, following the fifth great extinction that took out the dinosaurs 66 million years ago. In the present age, called the "Anthropocene", it is possible that humanity's footprint on the planet will cause the loss of half of all species by 2100. And humankind is the only species whose behavior can change what we've started.
In Racing Extinction a team of artists and activists expose a hidden world of endangered species and the race to protect them from mass extinction. They infiltrate black markets of the international animal trade and document the link between carbon emissions and species extinction. Director Louie Psihoyos has crafted an ambitious mission to clearly and artfully put into focus our impact on the planet, while inspiring us all to embrace solutions that will ensure a thriving, biodiverse world for future generations.
Friday, March 17 @ 7:00 pm – Now Is The Time: Healthcare for Everybody
(2016, Directed byTerry Sterrenberg & Laurie Simons, 71 min)
Special Guests:

Dr. Chris Covert-Bowlds

, representing Heath Care For All – Washington;

Georgia Davenport

, Campaign Director for Whole Washington

The United States pays nearly twice as much for healthcare as any other industrialized nation, yet it still does not provide care for all of its citizens. While the Affordable Care Act has helped some people, many of us are feeling the pinch of rising costs and narrowing networks. Polls show that 58% of Americans favor a national publicly funded healthcare program. So why has the U.S. Congress not yet passed–or even considered–such a plan? This documentary delves into what single payer healthcare is, how it saves money, and what behind-the-scenes heroes are doing to clear the fog of misperception that keeps us from moving forward.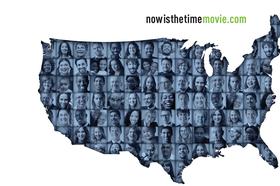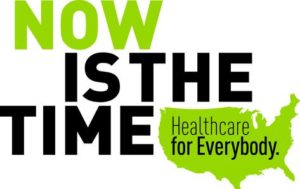 Friday, February 17 @ 7:00 pm – From Selma to Soweto
(2010, Directed by Connie Field, 89 min)
From Selma to Soweto is a historic look back at 1980s America.  It documents the persistence, focus and hard work it took to achieve a goal for freedom and justice, a goal made even harder because it was opposed by the POTUS, Ronald Reagan.
Long one of South Africa's most important and powerful allies, the United States becomes a key battleground in the anti-apartheid movement as African Americans lead the charge to change the government's policy toward the apartheid regime. A grassroots movement to get colleges, city councils, and states to divest their holdings in companies doing business in South Africa spreads across the entire nation pressuring the U.S. Congress to finally sanction South Africa. This stunning victory is won against the formidable opposition of President Ronald Reagan. African Americans significantly alter U.S. foreign policy for the first time in history. European sanctions follow, and with them, the political isolation of the apartheid regime.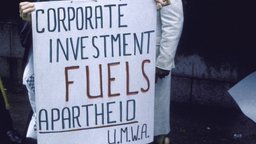 Friday, January 20 @ 7:00 pm – Before the Flood
(2016, Directed by Fisher Stevens, 93 min)
Leonardo DiCaprio may by the star of his latest documentary, Before the Flood, but something much bigger takes the stage: Earth. DiCaprio travels to Alberta, Canada, to see its toxic tar sands. He witnesses the frequently flooded streets of Miami Beach, Florida. He visits Beijing, a city shrouded by a constant cloak of smog. DiCaprio also explores Indonesia, a country scorched by forest fires caused by unsustainable palm oil development.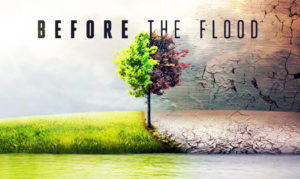 Friday, November 18 @ 7:00 pm – Consumerism & the Limits to Imagination
(2014, directed by Sut Jhally, 42 mins)
Consumer capitalism.  For many decades it has dominated our economy, politics, and culture.  Media scholar Justin Lewis argues that changing this domination will require changing our culture.  He argues that our media limit critical thinking and keep us bound to a way of life that mandates consume, consume, consume.
Change our culture and transform our media and communications systems?  Is that even possible?
Friday, October 21 @ 7:00 pm – Free For All: One Dude's Quest to Save Our Elections
(2008, directed by John Wellington Ennis, 95 mins)
It'd be hard to do here in Washington. But in states like Ohio or Florida, where easily hackable, vote-flipping machines are used, where campaign chairs just happen also to be Secretaries of State, where precinct lines are redrawn and a vote not cast in the "correct" precinct is not counted, where precincts with increased registration receive fewer machines than in previous years, where vote-counting servers mysteriously crash and are replaced by servers run by clearly biased management, where if your name happens to match that of a released felon you are handed a "provisional ballot" – the list goes on – elections can be and have been stolen.
Remember in 2004 how the exit polls in Ohio said one thing and the official count said another? FREE FOR ALL is an oldie-but-goodie (3 stars from Roger Ebert) from 2008 that tells the story of that election. It's not only fascinating history, it's a warning that it can happen again.
     FREE FOR ALL was directed by John Wellington Ennis, who also directed PAY 2 PLAY in 2014, previously shown at Kirkland.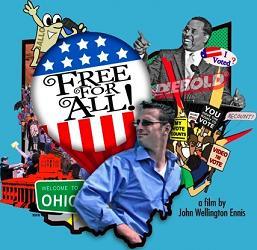 Friday, September 16 @ 7:00 pm – Where To Invade Next
(2016, directed by Michael Moore, 2 hrs)
Just in time for election season, America's favorite political provocateur, Michael Moore, is back with his new film, Where To Invade Next. Honored by festivals and critics groups alike, Where To Invade Next is an expansive, hilarious, and subversive comedy in which the Academy Award®-winning director confronts the most pressing issues facing America today and finds solutions in the most unlikely places. The creator of Fahrenheit 9/11 and Bowling for Columbine has returned with an epic movie that's unlike anything he has done before—an eye-opening call to arms to capture the American Dream and restore it in, of all places, America.
"One of the most genuinely, and valuably, patriotic films any American has ever made… Optimistic and affirmative, it rests on one challenging but invaluable idea: we can do better."
— Godfrey Cheshire, rogerebert.com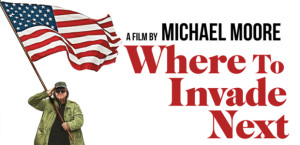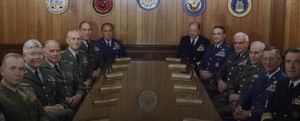 Friday, August 19 @ 7:00 pm – She's Beautiful When She's Angry
(2014, directed by Mary Dore, 1 hr  32min)
She's Beautiful depicts the early days of the National Organization for Women (NOW) when ladies wore hats and gloves. At the same time, young women, frustrated with their second-class status in civil rights and peace groups, started a new movement called women's liberation. They proclaimed that "the personal is political," and demanded sexual equality in every part of daily life. Featuring interviews with early feminists Kate Millett, Fran Beal, Rita Mae Brown and many others, SHE'S BEAUTIFUL WHEN SHE'S ANGRY shows women fighting back with humor, sometimes with fury – daring to be "bad."
SHE'S BEAUTIFUL WHEN SHE'S ANGRY reveals a wide-reaching movement with women's rock bands, poetry readings, and "zaps," impromptu protest actions. The film shows many aspects of the movement: poets and publishers in San Francisco (Susan Griffin and Alta); lesbian activists (Rita Mae Brown and Karla Jay) who made the slur "Lavender Menace" into a term of liberation; Chicago women who started a pre-Roe underground abortion service (Judith Arcana and Heather Booth); and the Boston women who wrote Our Bodies, Ourselves, named by Time Magazine as one of the most important books of the 20th century. She's Beautiful shows many strands of early feminism, including the voices of women of color and struggles over issues of class and lesbian rights.
Major themes appear throughout the film: the struggle for freedom and equality, a woman's right to control her own body — in terms of sexuality, health care, and reproductive rights. She's Beautiful also links to current day issues, showing young women inventing their own forms of feminist action, with "Slut Walks" protesting rape culture in New York and Texas protests over the closing of abortion clinics.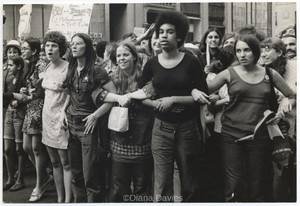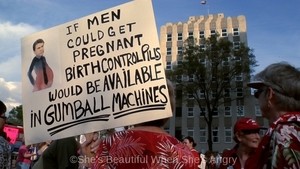 Friday, July 15 @ 7:00 pm – To Begin The World Over Again: The Life of Thomas Paine
(2016, directed by Shanga Parker, 60 min)
This is a film of Ian Ruskin's acclaimed one-man play about Paine's life, filmed in front of a live audience at the Lillian Theater in Hollywood.
Thomas Paine was the one truly radical Founder of America, a man largely forgotten and greatly misunderstood today.  His ideas about democracy, equality, slavery, pensions, healthcare, education and morality would have created a very different world had they been acted on.  When he was writing his books and pamphlets he was at the epicenter of world events, literally transforming nations through the power of his words.
"The man once enlightened cannot again become dark."
"One must always speak the truth as one sees it, no matter the consequences, no matter the consequences."
Filmed by Haskell Wexler.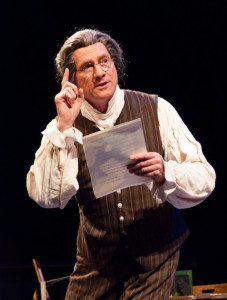 Friday, June 17 @ 7:00 pm – Trapped
(2016, directed by Dawn Porter, 90 min)
WHAT REMAINS OF A WOMAN'S RIGHT TO CHOOSE?
U.S. reproductive health clinics are fighting to remain open.
Since 2010, 288 laws regulating abortion providers have been passed by state legislatures. In total, 44 states and the District of Columbia have measures subjecting abortion providers to legal restrictions not imposed on other medical professionals. Unable to comply with these medically unnecessary laws, clinics have taken their fight to the courts.
As the U.S. Supreme Court decides in 2016 whether individual states may essentially outlaw abortion (Whole Woman's Health v. Hellerstedt), Trapped follows clinic workers and lawyers who are on the front lines of the battle to keep abortion safe and legal for millions of American women.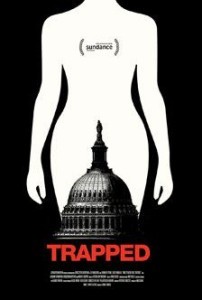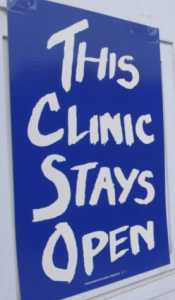 Friday, May 20 @ 7:00 pm – Just Eat It
(2014, directed by Grant Baldwin, 74 min)
We all love food.  As a society, we devour countless cooking shows, culinary magazines and foodie blogs. So how could we possibly be throwing nearly 50% of it in the trash?
Just Eat It looks at our systemic obsession with expiry dates, perfect produce and portion sizes, and reveals the core of this seemingly insignificant issue that is having devastating consequences around the globe.
Just Eat It brings farmers, retailers, inspiring organizations, and consumers to the table in a cinematic story that is equal parts education and delicious entertainment.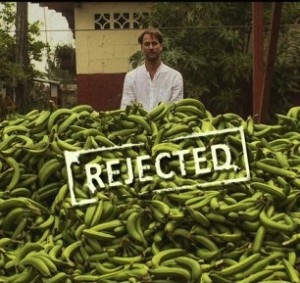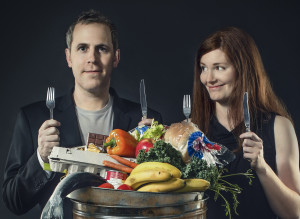 Friday, April 15 @ 7:00 pm – Education, Inc.
(2014, directed by Brian Malone, 94 min)
Public schools across the country struggle for funding, impacted by
both poverty and politics. For free-market reformers, private
investors and large education corporations, this struggle spells
opportunity.
Education, Inc. examines the free-market and for-profit interests that
have been quietly and systematically privatizing America's public
education system under the banner of "school choice". The story is
told through the eyes of parent and filmmaker Brian Malone, as he
travels cross-country in search of the answers and sources behind the
privatizing of American public education.
With striking footage from school protests, raucous school board
meetings and interviews with some of the most well known educators in
the country, Malone zooms out to paint a clear picture of profit and
politics that is sweeping across the nation, right under our noses.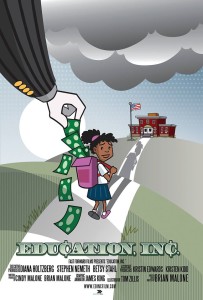 Friday, March 18 @ 7:00 pm – Advise & Dissent: where justice and politics collide
(2012, directed by David Van Taylor, 1 hr 27 min)
Government's least-understood "Third Branch"  has a huge impact on our lives—from abortion to affirmative action, education to the environment, privacy to police action. But in recent years the way we select Supreme Court justices has become dangerously politicized, threatening judicial impartiality, and making it increasingly hard to have faith in the ideal chiseled on its facade: "Equal Justice Under Law".
Advise & Dissent goes behind the lines and into the trenches of the judicial confirmation wars. The film tracks two opposing lobbyists and two lions of the Senate through several recent nominations, each of which inflames passions and provokes surprising conflicts and shifting alliances.  A similar scenario is about to unfold with President Obama's nomination of a successor to Justice Antonin Scalia.
The award-winning film weaves "you-are-there" scenes into an unexpectedly suspenseful narrative. Advise & Dissent reveals how honesty has succumbed to strategy, how politics have come to trump principle, and how partisanship is overwhelming judicial independence.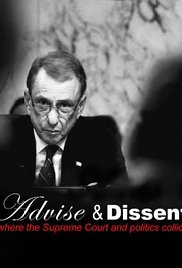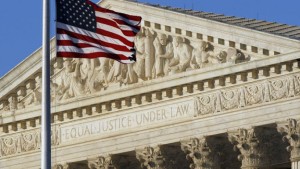 Friday, Feb. 19 @ 7:00 pm – Following the Ninth: In The Footsteps of Beethoven's Final Symphony
(2013, directed by Kerry Candaele, 90 min)
Following the Ninth is a documentary film about the global impact of Beethoven's final symphony. The film, released in mid-2013, has screened in over 250 cities in the United States and around the globe, with more to come.
Written in 1824, near the end of Beethoven's life, the Ninth Symphony was composed by a man with little to be thankful for. Sick, alienated from almost everyone, and completely deaf, Beethoven had never managed to find love, nor create the family he'd always wanted. And yet, despite this, he managed to create an anthem of joy that embraces the transcendence of beauty over suffering.
Celebrated to this day for its ability to heal, repair, and bring people together across great divides, the Ninth has become an anthem of liberation and hope that has inspired many around the world.
Directed and produced by Kerry Candaele—who previously produced Wal-Mart: The High Cost of Low Prices, Iraq for Sale, and the documentary A League of Their Own—Following the Ninth traces these stories, intertwining them with the history of the Ninth itself to create a moving ode to hope, freedom, and the power of art.
Friday, Jan. 15 @ 7:00 pm – The Doctrine of Discovery: Unmasking The Domination Code –
Special Guest from the Duwamish Tribe "Seattle's First People"
(2015, directed by Sheldon P. Wolfchild, C0-Produced by Steven T. Newcomb, 61 min)
The Doctrine of Discovery: Unmasking The Domination Code examines a little known subject traced back to Columbus's so-called "discovery" of the Americas.  By papal decree, the first Christian people to discover lands inhabited by non-Christians asserted the "ultimate dominion" to be in themselves.  This "right of discovery" was adopted and used by the U.S. Supreme Court in 1823 in the case Johnson & Graham's Lessee v. M'Intosh, in which the Court defined the land title of the Indians as a "mere right of occupancy." Thus the Christian power that claimed "ultimate dominion" could grant away the soil while yet in the possession of "heathens." This doctrine remains the Supreme Law of the Land in the United States.
Theologian Luis Rivera, who was interviewed for the film, points out that an accurate history must account for the theological and religious justifications for claims of domination over the Indians.  The film is based on a 2008 book, Pagans in the Promised Land: Decoding the Doctrine of Discovery, by Steven Newcomb (Shawnee/Lenape).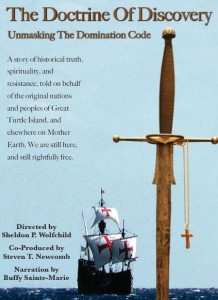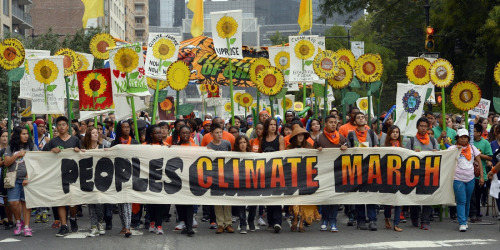 Friday, November 20 @ 7:00 pm – This Changes Everything
Special Guests:

Jan Keller, 350.org & Doug Howell, Sierra Club Beyond Coal Campaign

(2015, directed by Avi Lewis, 1 hr 29 min)
What if confronting the climate crisis is the best chance we'll ever get to build a better world?
Filmed over 211 shoot days in nine countries and five continents over four years, This Changes Everything is an epic attempt to re-imagine the vast challenge of climate change. Directed by Avi Lewis, and inspired by Naomi Klein's international non-fiction bestseller This Changes Everything, the film presents seven powerful portraits of communities on the front lines, from Montana's Powder River Basin to the Alberta Tar Sands, from the coast of South India to Beijing and beyond.
Interwoven with these stories of struggle is Klein's narration, connecting the carbon in the air with the economic system that put it there. Throughout the film, Klein builds to her most controversial and exciting idea: that we can seize the existential crisis of climate change to transform our failed economic system into something radically better.
Over the course of 90 minutes, viewers will meet…
Crystal, a young indigenous leader in Tar Sands country, as she fights for access to a restricted military base in search of answers about an environmental disaster in progress.
Mike and Alexis, a Montana goat ranching couple who see their dreams coated in oil from a broken pipeline. They respond by organizing against fossil fuel extraction in their beloved Powder River Basin, and forming a new alliance with the Northern Cheyenne tribe to bring solar power to the nearby reservation.
Melachrini, a housewife in Northern Greece where economic crisis is being used to justify mining and drilling projects that threaten the mountains, seas, and tourism economy. Against the backdrop of Greece in crisis, a powerful social movement rises.
Jyothi, a matriarch in Andhra Pradesh, India who sings sweetly and battles fiercely along with her fellow villagers, fighting a proposed coal-fired power plant that will destroy a life-giving wetland. In the course of this struggle, they help ignite a nationwide movement.
The extraordinary detail and richness of the cinematography in This Changes Everything provides an epic canvas for this exploration of the greatest challenge of our time. Unlike many works about the climate crisis, this is not a film that tries to scare the audience into action: it aims to empower. Provocative, compelling, and accessible to even the most climate-fatigued viewers, This Changes Everything will leave you refreshed and inspired, reflecting on the ties between us, the kind of lives we really want, and why the climate crisis is at the centre of it all.
Will this film change everything? Absolutely not. But you could, by answering its call to action.
Friday, October 16@ 7:00 pm – Vessel
(2013, directed by Diana Whitten, 1 hr 30 min)
Vessel begins with a young doctor who lived by the sea, and an unlikely idea. Rebecca Gomperts, horrified by the realities created by anti-abortion law around the world, felt compelled to challenge this. Her method: to provide abortions on a ship in offshore waters.
Her project, Women on Waves, begins as flawed spectacle, a media frenzy, faced with governmental, religious, and military blockades. But with each setback comes a more refined mission, until Rebecca has a revelation that she can use new technologies to bypass law – and train women to give themselves safe abortions using WHO-sanctioned protocols with pills.
We witness the creation of an underground network of emboldened, informed activists, working at the cutting edge of global reproductive rights, who trust women to handle abortion themselves. Vessel is Rebecca's story: one of an woman who heard and answered a calling, and transformed a wildly improbable idea into a global movement.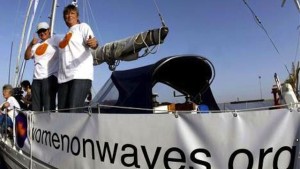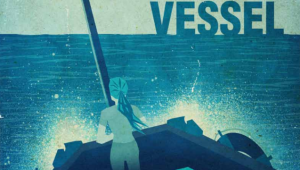 Friday, September 18 @ 7:00 pm – Targeting Iran
(2013, directed by Andy Norris, 71 min)
Through the lens of some of the world's greatest sociopolitical thinkers, Targeting Iran examines the many political, historical, economic, military and cultural aspects of the U.S./Iranian tensions that are not often discussed in the mainstream media.
Based on the book of the same name by author and journalist David Barsamian, Targeting Iran seeks to elucidate the myths and popular misconceptions surrounding Iran's nuclear aspirations. Through interviews with eminent figures such as MIT's Jim Walsh, National Iranian American Council President and author of 'A Single Roll of the Dice' Trita Parsi, Noam Chomsky, veteran New York Times correspondent Stephen Kinzer and David Barsamian himself, the complexities of Iran's history, socio-political strata and strategic quandary are laid out in all-too-rare a fashion for Western audiences.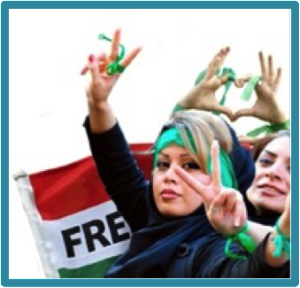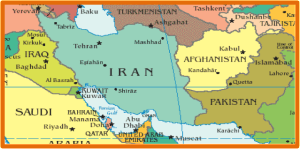 Friday, August 21 @ 7:00 pm – PAY 2 PLAY: Democracy's High Stakes
(2014, directed by John Ennis, 1 hr 27 min)
Driven to make the world better for his newborn daughter, John Ennis looks for ways out of our system of pay-to-play politics. Along the way, he journeys through high drama on the Ohio campaign trail, uncovers the secret history of the game Monopoly, and explores the underworld of L.A. street art on a humorous odyssey that reveals how much of a difference one person can make. PAY 2 PLAY: Democracy's High Stakes is a fun guidebook to returning the United States government to its People.
PAY 2 PLAY features Robert Reich, Lawrence Lessig, John Nichols, Noam Chomsky, Jerry Springer, Van Jones, Marianne Williamson, Jack Abramoff, Thom Hartmann, Bob Edgar and more…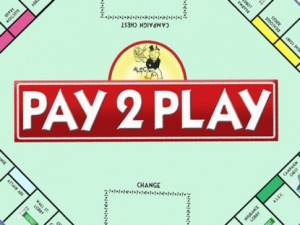 Friday, July 17 @ 7:00 pm – "White Like Me"
(2013, Directed by Tim Wise, 69 min)
White Like Me, based on the work of acclaimed anti-racist educator and author Tim Wise, explores race and racism in the U.S. through the lens of whiteness and white privilege. In a stunning reassessment of the American ideal of meritocracy and claims that we've entered a post-racial society, Wise offers a fascinating look back at the race-based white entitlement programs that built the American middle class, and argues that our failure as a society to come to terms with this legacy of white privilege continues to perpetuate racial inequality and race-driven political resentments today.
For years, Tim Wise's bestselling books and spellbinding lectures have challenged some of our most basic assumptions about race in America. White Like Me is the first film to bring the full range of his work to the screen — to show how white privilege continues to shape individual attitudes, electoral politics, and government policy in ways too many white people never stop to think about.
Features Tim Wise, Michelle Alexander, Charles Ogletree, Imani Perry, Martin Gilens, John H. Bracey, Jr., and Nilanjana Dasgupta.
"It is easy for whites to assume that they are not racist, that they are "postracial." White Like Me shows how these "colorblind" racial attitudes don't cut it. They INCREASE racial inequality and LIMIT democracy, rather than the reverse. This video helps us understand racism as a problem faced by our whole society, not just by people of color. While many whites remain oblivious to racism, others have courageously challenged it. Filmmaker Tim Wise is a shining example of that courage. White Like Me is an outstanding educational tool for both the classroom and the community. Highly recommended!
– Howard Winant | Professor of Sociology, UC Santa Barbara
Friday, June 19 @ 7:00 pm – "Our Sacred Obligation: 2014 Totem Pole Journey"
(2014, Directed by Freddie Lane, 66 min)
In August 2014 master carver Jewell James carved a totem pole that traveled to South Dakota, Montana, Washington, British Columbia and Alberta, where it was erected at Beaver Lake Cree Nation. This film is about that journey and the voices of native and non-native communities along the route. Those communities are concerned about the impacts of the fossil fuel industry on their land and waters, especially the effects of coal trains and of extracting and shipping fuel from tar sands.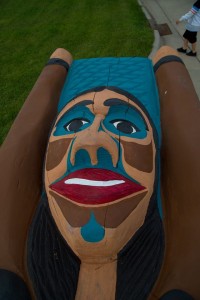 Friday, May 15 @ 7:00 pm – "Green Fire: Aldo Leopold and a Land Ethic for Our Time"
(2011, Directed by Steven Dunsky, edited by Ann Dunsky, 73 min)
Green Fire was produced in partnership between the Aldo Leopold Foundation, the Center for Humans and Nature, and the US Forest Service. The film provocatively examines Leopold's thinking, renewing his idea of a land ethic for a population facing 21st century ecological challenges. Leopold's biographer, conservation biologist Dr. Curt Meine, serves as the film's on-screen guide.
Green Fire describes the formation of Leopold's idea, exploring how it changed one man and later permeated through all arenas of conservation. The film draws on Leopold's life and experiences to provide context and validity, then explores the deep impact of his thinking on conservation projects around the world today. Through these examples, the film challenges viewers to contemplate their own relationship with the land community.
The high-definition film will utilize photographs, correspondence, manuscripts and other archival documents from the voluminous Aldo Leopold Archives as well as historical film and contemporary full-color footage on location, including landscapes that influenced Leopold and that he in turn influenced.
The film also features commentary and insight from some of today's most recognized and credible scholars and conservation leaders, including: three of Aldo Leopold's children—Nina, Carl, and Estella, Leopold scholars, noted environmental writers, scientists, humanities experts, public policy leaders, business leaders, and leaders of non-profit groups inspired by Leopold.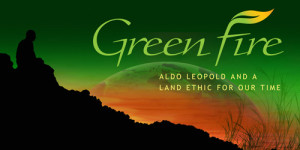 Friday, April 17 @ 7:00 pm – The Wisdom to Survive: Climate Change, Capitalism & Community
(2013, John Ankele and Anne Macksoud, 56 min)
The Wisdom to Survive accepts the consensus of scientists that climate change has already arrived, and asks, what is keeping us from action? The film explores how unlimited growth and greed are destroying the life support system of the planet, the social fabric of society, and the lives of billions of people.
Will we have the wisdom to survive? The film features thought leaders and activists in the realms of science, economics and spirituality discussing how we can evolve and take action in the face of climate disruption. They urge us to open ourselves to the beauty that surrounds us and get to work on ensuring it thrives.
Among those featured are Bill McKibben, Joanna Macy, Nikki Cooley, Roger Payne, Richard Heinberg, Amy Seidl, Stephanie Kaza, Gus Speth, Jihan Gearan, and Ben Falk.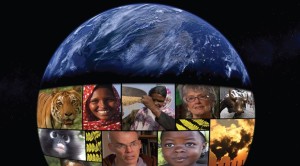 Friday, March 20 @ 7:00 pm
Film: Girl Rising
(2013, Richard E. Robbins, 1 hr 41 min)
Girl Rising is a powerful and innovative new feature film by Academy Award-nominated director Richard E. Robbins. Produced by award-winning former ABC News journalists of The Documentary Group and Paul G. Allen's Vulcan Productions, Girl Rising is powered by strategic partner, Intel Corporation, and global television distribution partner, CNN Films.
Girl Rising spotlights the stories of nine unforgettable girls born into unforgiving circumstances. Girls like Sokha, an orphan who rises from a life in the garbage dump in Phnom Penh, Cambodia to become a star student and an accomplished dancer; Suma, who writes songs that help her endure forced servitude in Nepal and today crusades to free others; and Ruksana, an Indian "pavement-dweller" whose father sacrifices his own basic needs for his daughter's dreams.
Each girl is paired with a renowned writer from her native country: Marie Arana (Peru), Edwidge Danticat (Haiti), Mona Eltahawy (Egypt), Aminatta Forna (Sierre Leone), Zarghuna Kargar (Afghanistan), Maaza Mengiste (Ethiopia), Sooni Taraporevala (India), Manjushree Thapa (Nepal), and Loung Ung (Cambodia).
These stories are narrated by celebrated actresses: Cate Blanchett (Haiti), Priyanka Chopra (India), Selena Gomez (Sierra Leone), Anne Hathaway (Afghanistan), Salma Hayek (Peru), Alicia Keys (Cambodia), Chloë Moretz (Egypt), Freida Pinto, Meryl Streep (Ethiopia), and Kerry Washington (Nepal). Girl Rising also features Freida Pinto and Liam Neeson, with original music from Academy Award-winner Rachel Portman and Lorne Balfe.
Girl Rising is the centerpiece of 10×10, a global campaign to educate and empower girls. The executive producers of Girl Rising are Tom Yellin, Holly Gordon, Paul G. Allen and Jody Allen.
Friday, February 20 @ 7:00 pm
Film: The Healthcare Movie
Special Guest Discussion Facilitator – Sherry Weinberg, a retired physician actively involved in Healthcare for All WA and in the development of the Washington Health Security Trust bill, will be present to answer questions.
(2012, Laurie Limons & Terry Sterrenberg, 65 min.)

This documentary provides the real story of how the health care systems in Canada and the United States evolved to be so completely different, when at one point they were essentially the same. Most people under the age of 50, in both countries, are not aware of the intensity of the political struggle that led to the universal medical care system in Canada. Nor are they aware of the public relations campaigns, still active today, that have been prevalent in the United States since the early 1900's to dissuade the public from supporting national health care.
Produced by Canadian/American couple Laurie Simons and Terry Sterrenberg, The Healthcare Movie reveals the personal and emotional impact on Canadians who now have access to universal health care because of the heroism of people who took a stand nearly 50 years ago. It also reveals the continuing struggle in the United States between the fear of government intervention and the right to quality health care for all people.
Every day people are dying or going bankrupt due to the ills of the United States system. Who are we in the face of this human tragedy? If you agree that people are more important than profits, then you must watch this film.
Friday, January 16 @ 7:00 pm
Cowspiracy: The Sustainability Secret is a groundbreaking feature-length environmental documentary following intrepid filmmaker Kip Andersen as he uncovers the most destructive industry facing the planet today – and investigates why the world's leading environmental organizations are too afraid to talk about it.
Animal agriculture is the leading cause of deforestation, water consumption and pollution, is responsible for more greenhouse gases than the transportation industry, and is a primary driver of rainforest destruction, species extinction, habitat loss, topsoil erosion, ocean "dead zones," and virtually every other environmental ill. Yet it goes on, almost entirely unchallenged.
As Andersen approaches leaders in the environmental movement, he increasingly uncovers what appears to be an intentional refusal to discuss the issue of animal agriculture, while industry whistleblowers and watchdogs warn him of the risks to his freedom and even his life if he dares to persist.
As eye-opening as Blackfish and as inspiring as An Inconvenient Truth, this shocking yet humorous documentary reveals the absolutely devastating environmental impact large-scale factory farming has on our planet, and offers a path to global sustainability for a growing population.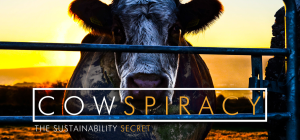 Friday, November 21 @ 7:00 pm
Film: Chasing Ice
(75 min, Jeff Orlowski, 2012)
Chasing Ice is the story of one man's mission to change the tide of history by gathering undeniable evidence of our changing planet. Within months of that first trip to Iceland, the photographer conceived the boldest expedition of his life: The Extreme Ice Survey. With a band of young adventurers in tow, Balog began deploying revolutionary time-lapse cameras across the brutal Arctic to capture a multi-year record of the world's changing glaciers.
As the debate polarizes America and the intensity of natural disasters ramps up globally, Balog finds himself at the end of his tether. Battling untested technology in subzero conditions, he comes face to face with his own mortality. It takes years for Balog to see the fruits of his labor. His hauntingly beautiful videos compress years into seconds and capture ancient mountains of ice in motion as they disappear at a breathtaking rate. Chasing Ice depicts a photographer trying to deliver evidence and hope to our carbon-powered planet.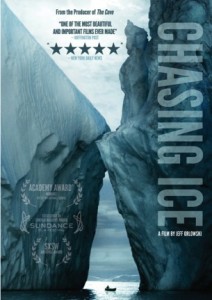 October 2014
Film: UnDivided
(65 min, Sam Martin, 2013)
Un|Divided documents the true story of how a suburban church unites with at-risk Roosevelt High School – once Portland, Oregon's most outstanding but now failing and slated for closure – to create a beautiful transformation for students, the school and the volunteers serving it.
The film documents the startling possibilities for reconciliation and restoration. We watch as the volunteers of SouthLake Church – suburban, affluent and with little insight into economically challenged inner-city youth – decide to follow their faith.
They show up en masse one Saturday to work on the grounds, only to discover disaffected kids suffering from crumbling facilities, losing sports teams, a high dropout rate, hunger and nearly 20% of the student body homeless.
So they make a decision: to serve them with unconditional love. The results are surprising, even shocking.and an inspiring blueprint for rewriting how schools and communities can change their destiny.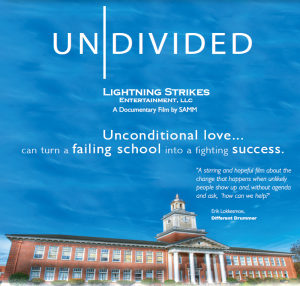 September 2014
Film: Toxic Hot Seat
(James Redford and Kirby Walker, 2013)
Toxic Hot Seat tells a story of a growing tide of activists, journalists and citizens who are bringing an end to the era of manipulation and misinformation about hidden chemicals. The film shows the struggle to remove toxic flame retardant chemicals from our couches, environment and bodies. These chemicals are linked to lower IQ in children, thyroid disease, infertility, cancer and other rising rates of health problems. They are found in every living being on earth.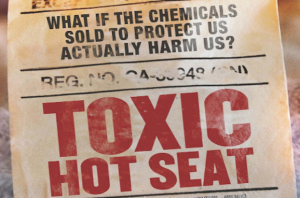 August 2014
Film: Amazing Grace and Chuck
(Mike Newell, 1987, 114 min.)
Special Event: Ice Cream Social Justice
Amazing Grace and Chuck is the story of a Little League Pitcher and the power of one determined person to make a difference in the world.
When young Chuck Murdock visits a nuclear missile site, he learns that one bomb would destroy the earth in less time than it would take a piece of silverware to drop from his hand to the floor. This information sends the sensitive boy into existential angst. Wondering why anybody should do anything when the world can be destroyed so quickly, and hoping to raise consciousness about nuclear weapons, Chuck quits his Little League team. He gains a little bit of local press. One of those stories is read by NBA star "Amazing Grace" Smith (Alex English), who is so moved by the boy's story that he too quits playing his sport. This produces a great deal of national press, as well as a handful of stars from other sports that decide to join the ranks of Amazing Grace and Chuck. Some powers that be in the sports world, as well as the government, do not look kindly upon these "strikes" and set about to end the movement.

July 2014
Film: Fixing the Future
In Fixing the Future, host David Brancaccio, of public radio's Marketplace and NOW on PBS, visits people and organizations across America that are attempting a revolution: the reinvention of the American economy. By featuring communities using sustainable and innovative approaches to create jobs and build prosperity, Fixing the Future inspires hope and renewal in a people overwhelmed by economic collapse. The film highlights effective, local practices such as: local business alliances, community banking, time banking/hour exchange, worker cooperatives and local currencies.