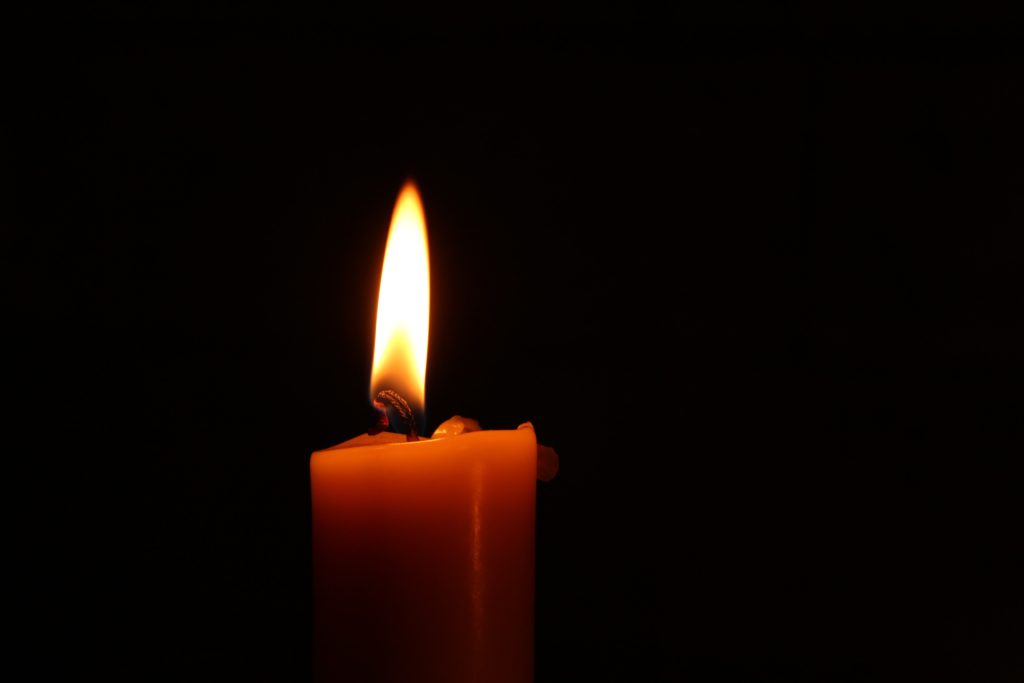 Facing the Dark
– Rev. Nancy Reid-McKee, Minister
Someone asked me recently how we will endure the coming season with the shortening daylight, longer nights with cold rains. It isn't that this winter hasn't happened before; the weather isn't predicted to be worse than normal.
But these days troubling events accost us. In other years I could gather in warm kitchens with friends, instead of remaining safe in my self-isolation. In other years I wasn't immersed in the awareness of the racial system that I now know undermines the security of my friends. In other years I didn't stare at the clouds, wonder at the rain, feel the warmth of the air and wonder: "Is this normal, or another change in our climate?" And in other years, I didn't watch my country plunge into a chaos of political upheaval.
Dark tremors sweep across all our lives, and the coming season feels ominous to me. In this abyss of the heart, I can only pray for light.
This is when I practice intention. I pay attention to myself with a daily practice of remembering that I am enough, and I remind myself to be easy with my soul. Here is what I do:
I light a candle. A single candle. And I watch it until I am clear that I can say "I am present."
Then I recite words that remind me to be filled with love, words that remind me to be kind. I say, "May I be at peace, more patient with myself." Let me turn from every pettiness of the heart, willing to see and accept that the world does not revolve around me. Let the grief, the pain, and the nameless trouble that overcomes me also open me to feel what others have felt.
This winter, practice being present each day in a way that affirms you. Light a candle for your spirit. Light a candle that grounds you. Light a candle to kindle passion. Light a candle of renewal. As you light these candles, you light a way for yourself during the coming darkness. You can remind yourself of the fire inside of you that holds you steady even in the longest, darkest times.
---
Children's and Youth Religious Education News
– Margaret Rogers, Director of Lifespan Religious Education
The weather has changed, and our days are getting shorter. Many of us are adjusting our fall family rituals, starting with Halloween and looking toward Thanksgiving and the December holidays.
While we cannot celebrate in many of the ways that we have enjoyed in years past, we can ask ourselves and our families what makes the holidays special for us. We can focus on what we can do safely that will sustain us through the next few months.
At Northlake, we will be looking ahead to December and our Winter Multigenerational service. This year we will be collaborating with the Music program and Jaie to create a special online service. If you and your family would like to participate, please let me know. We'll have ways to participate live and pre-recorded, and we will start working on the service in November.
Also in November, I will be offering an online discussion of the UUA Common Read for 2019-2020, "An Indigenous Peoples' History of the United States for Young People" by Roxanne Dunbar-Ortiz and adapted by Jean Mendoza and Debbie Reese. This book is written for middle school-aged people and older, and the discussion will be open to that age range.
We are here to support you and your family as you continue to meet the challenges this year is bringing us. We hope to see you online in class on Sunday, or for games and stories during the week. Please check the calendar and weekly announcements for times and more information.
---
Coronavirus Update
We have been out of our church building for over 7 months now, and we are all feeling the loss. While there is increasing desire to see each other, please remember we are entering a time of escalating risk.
The COVID Response Team, in response to questions about Northlake community gathering, offers the following advice.
What are the guidelines for congregants meeting in person?
For Northlake events, this is the best information we have available at this time:
Data indicates that meeting in an outdoor area, with masks, remaining 6 feet or more apart, with proper hand sanitation afterward, is a low risk activity.
Meeting indoors remains a higher risk activity, although wearing a mask provides some protection. Using an air purifier may add an extra level of protection, but conclusive studies are not yet widely available.
Given what we know at this time, Northlake is not sponsoring any indoor-events for congregants.
Northlake's minister, staff, or committees may sponsor occasional outdoor experiences in the upcoming outdoor tent. (See below for more information.) Northlake's minister may sponsor occasional outdoor experiences on the grounds including in the parking lot, which will be announced as they become relevant.
We ask that ALL Northlake events take place:
a) via online meeting software (such as Zoom),
b) in the designated outdoor tent, or
c) outdoors on the grounds (including in the parking lot) if and only if the event is sponsored by the minister.
If I want to organize a NUUC group meeting what is the current protocol?
A canopy will be erected on the grounds. The tent will have at least one side fully open at all times to ensure constant fresh air. Small groups (no more than 8 families at a time, no more than 16 persons total at a time) affiliated with Northlake wishing to host an event for congregants may register with the Northlake Campus Administrator (Becky) to reserve the outdoor tent space. Becky will make available more detailed guidelines regarding rules for use, contact tracing data collection, and clean up.
Becky can be reached Tuesday through Saturday at office@northlakeuu.org
We ask that no Northlake-sponsored events take place in alternative locations, such as individual backyards or public parks. While we acknowledge that some of these locations may offer comparatively low-risk ways of gathering in your personal time, there are a large number of variables associated with each location, and the COVID-19 Response Team does not have the ability to assess each site to set guidelines for maximum occupancy, necessary sterilization procedures, etc. If you are gathering in the name of the church, please reserve and use the designated tent site.
May I meet with my Northlake friends outside of church?
Northlake is not issuing guidelines for non-Northlake events of this nature. You are invited to do your own research in order to make your best choices.
Who do I contact should I have questions about meeting with people during these COVID times?
Jordan P. is the Chair of the Northlake Safety Committee and will serve as the contact for the COVID-19 Response Team. You may contact Jordan.
Alternatively, you may contact Campus Administrator Becky Walker at office@northlakeuu.org.
For questions about keeping yourself safe outside of Northlake, we recommend continuing to keep abreast of information released by county and state public health authorities.