Driveway Reflections 
– Rev. Jim VanderWeele, Interim Minister
My "snow-gift" was multiple trips to the driveway. Sadly, my tools were limited. I had heard of a snow storm a year, that people would say, "That was our storm!" and that they would be right. A broom went to the driveway with me at first. On the second day a spade pitched in. I swept on Friday night; swept and shoveled on Saturday, Sunday, and Monday. And, the snow kept falling! Beautiful. Graceful. Lovely. Plenty of time for driveway reflection.
When I was younger living in the Midwest, I realized driveway time is reflection time, and one feature of driveway thought had to be the weather. Snowfall, hurricanes, volcanoes, earthquakes, and wildfires chart their own course, at times so sudden or powerful the only human option is to react! A blizzard came to mind, followed by the local Co-op's Feed & Grain truck (and its driver, God bless him) for pulling me out from a drift and what I had thought would be a very, very, very cold night! Also, to the "3-day" pre-hurricane evacuation that inexorably had led to a secondhand FEMA store in the Chicago suburbs where I looked for some clothes to wear! In both cases, and here, too, the only option was to react! – a worthy lesson as the rest of the journey unfolds.
Walks through the neighborhood led to families looking for a good hill, people walking the dog(s), neighbors who were shoveling snow. On many days, these folks walked by. Now they were friendly, neighborly. A similar thing happened after Hurricane Katrina. People who returned were exuberant, sometimes nearly crying, with people they barely knew: "How are you? Where did you go? How's your house? How's your family? How's your mama?" I pondered how the journey might change if people were as neighborly every day as they are in the midst of a storm.
Safety also came to mind, and the importance of taking care of ourselves. Flight attendants often say, "Put on your own mask first, then you can help your child." February 13 may have been the first time Northlake cancelled a service. Cancellation was not an easy choice, but it was made for the safety of you and the rest of the people with whom you worship.
Through it all, communication about the process was shared following a timeframe set up as the snowfall began. This driveway insight might also be carried in this community, that good communication is needed and appreciated many times, but is especially important when the weather is inclement.
These are the four guidelines for the journey that arrived in "Snowpocalypse 2019": 1) sometimes you have to be reactive – there is no other choice to make; 2) it is possible to be more friendly, neighborly (not only for the neighbors, but for me, too); 3) Northlake has (and it will) look out for the safety of each and every person in its community; and 4) try to communicate fully and completely all the time, but especially when bad weather appears.
---
How Northlake Communicates
– Janelle D.
There are lots of ways to learn about what's happening at Northlake and to keep in touch with other members of our community. Here's an overview:
Northlake Lighthouse – our monthly newsletter. Includes reflections from Rev. Jim, articles related to our Soul Matters monthly themes, and in-depth discussions of current projects at Northlake. Editor: Alice K. You can find past issues here. To receive the newsletter, send an email to

[email protected]

and ask to subscribe to the Announcements email list.
Announcements Email List – this is the venue for official announcements, typically sent out by Sandy, our office administrator. These include the "Weekly Announcements" about events that are upcoming in the next few weeks and also occasional special emails from the minister or Board. You can find recent Weekly Announcements here. To receive these in your inbox, send an email to

[email protected]

and ask to subscribe to the Announcements email list.
Talk Email List – a forum for sharing information of interest to Northlakers: upcoming events at Northlake or in the community, advice, and requests for assistance (such as help with moving furniture). Any member of the list can email to the group and can reply to messages in the group. To subscribe, send an email to 

[email protected]

 and ask to subscribe to Talk.
Northlake Facebook Group: Open only to Northlake members and friends, this provides a venue for us to share items we think may interest other Northlakers, like news articles on social justice issues, invitations to performances and community events, happy news, gratitudes, and RE resources. Go to https://www.facebook.com/groups/NorthlakeUUC/ and ask to Join the Group.
Northlake Unitarian Universalist Church on Facebook: This is our public Facebook page, used to communicate with the broader community. Mary Ellen O manages the page, and posts announcements of upcoming services and other events, and inspirational quotes/images from the UUA. Go to https://www.facebook.com/northlakeuu/ and Like the page.
Sunday morning announcements – In your Order of Service, inserts, pre-service announcement slides and on the bulletin boards in the lobby, you'll learn more about upcoming activities
---
Side Street Parking at Northlake
– Chris K.
A number of our neighbors have found themselves blocked into their driveways during recent events at Northlake, especially along 4th Avenue South (the street that the front doors of our main building faces onto). Please be very aware of where you park, especially during evening events, when some of the driveways are hard to see.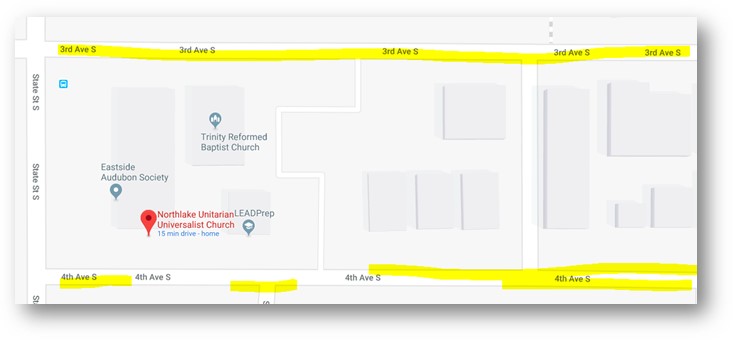 Several neighbors have reached out to us directly and respectfully about this issue. After collectively evaluating options (signs, paint, barriers, notes, etc.) with them and the city, the Kirkland Traffic Control Coordinator made it clear that the city prefers neighbors not take parking violations into their own hands, but instead call the police, who would have blocking cars ticketed and towed.
We wish to be good neighbors and ensure that no Northlake members or visitors accidentally block driveways and find their cars towed. You can help by being aware of neighbor driveways. If you do happen to see a car blocking a driveway during any Northlake event, please find someone at the event right away who can make an announcement to the attendees.
---
This Month in History
– France G. and Margaret Rogers, DLRE
Northlake's Social Justice Team discussed Black History Month at our February meeting, and we agreed that this history should not be relegated to just one month. So, we are planning to feature a historical note in Northlake's newsletter. When possible, there will be a Unitarian, Universalist, or Unitarian Universalist connection. Here's February's:
On February 2, 1866, Frederick Douglass and other black leaders met with President Andrew Johnson to advocate for black citizens' voting rights. President Johnson rejected their proposal. Douglass was one of many fugitive slaves who found assistance in fleeing slavery from Nathan and Mary Johnson. Nathan and Mary (Polly) Johnson were free black people living in New Bedford, Massachusetts. Nathan Johnson was a member of the Universalist church in New Bedford, led by abolitionist minister John Murray Spear.
Ninety-nine years later, in early 1965, Dr. Martin Luther King, Jr., with the Southern Christian Leadership Conference, Student Nonviolent Coordinating Committee and local activists, led a coordinated campaign for voting rights in Selma, Alabama. They were met with violence, and in February, a state trooper shot and killed Jimmie Lee Jackson. King called for a march from Selma to Montgomery, which was blocked by state troopers and local lawmen, and ended with the brutal attack on the civil rights activists by the lawmen. In the wake of Bloody Sunday, as it came to be called, Dr. King sent out telegrams and issued public statements "calling on religious leaders from all over the nation to join us on Tuesday in our peaceful, nonviolent march for freedom" (source). James Reeb, a white Unitarian minister and civil rights advocate, responded to the call and marched with Dr. King, along with Rev. Clark Olsen and Rev. Orloff Miller. During the evening after the march, the three Unitarian ministers were attacked by a group of white men in Selma and Rev. Reeb was fatally injured. Viola Liuzzo, another civil rights advocate and Unitarian who heeded King's call to come and offer support, was killed at the end of the three marches on March 25, 1965. Liuzzo was shot while driving a black civil rights activist back to Montgomery. These events together brought about enough attention, outrage, and support for the Voting Rights Act to be passed in August of 1965.
Additional sources: source 1, source 2, source 3, source 4 , source 5.
---
Green Sanctuary Transformation
– Howard H.
We recently completed our projects for accreditation as a Green Sanctuary church. Next we will need to document our accomplishments (with submissions from our members that were the leads in each project) and submit our Application for Green Sanctuary Accreditation. This doesn't mean that we are going to stop working on the things that we have started (solar panels on the church roof, other climate change efforts, recycling, etc.). Green Sanctuary accreditation is not meant to be the end of green sanctuary work. But it can take on a different form.
At our last few meetings we talked about transitioning the Green Sanctuary organization into a different form. The Green Sanctuary Team has always been a part of the Social Justice Committee, even though we operated as a separate entity. We will now stop having separate Green Sanctuary meetings and be absorbed into the Social Justice Committee – of which several of us are members and attend regularly. I see this as the Green Sanctuary Team transitioning into becoming a church-wide Green Sanctuary Community. This can open us up to church-wide ownership and participation, and I look forward to a reinvigorated Green Sanctuary effort.
---

March Meaningful Movie: The Most Dangerous Year
March 15, 7:00pm
We are so happy that Northlake will be screening The Most Dangerous Year as our March Meaningful Movie. Directed by Vlada Knowlton, The Most Dangerous Year is an important documentary which focuses on five families who all have a transgender son or daughter as they fight for their children's civil rights. Join us for the movie screening and conversation afterwards!

Pacific Northwest UU Music Festival
March 23-24
This almost-annual event started here at Northlake in 2013. What's exciting about this time around it that it's open to ANYONE in a PNW UU Congregation, not just choir members.
We are very excited to welcome Melanie DeMore to share her musical gifts with us during the music festival. She was a favorite clinician at the national Association of Unitarian Universalist Music Ministries (formerly UUMN) conference in Portland last summer.
Melanie will lead a workshop during which she will teach us songs by rote on Saturday, March 23 in at Edmonds UU Congregation from approximately 10:30 AM to 3:30 PM. We will also learn one choral arrangement called "God is All There Is." To let us know you'll be attending, and to purchase the PDF Version of "God is All There Is" ($1.75 per copy), contact Cathleen B., Northlake Music Team Chair.
We will present our "Community Sing" concert on Sunday, March 24, at the United Methodist Church in Edmonds, 3:00 – 4:00pm (call time is 1:30pm). We'll coordinate carpools leaving from Northlake by 1:00pm.
All UU's are welcome to join in even if they don't sing in a choir. Melanie will also be teaching songs to the audience as part our "Community Sing" concert.
To offset workshop and concert fees, travel accommodations, and venue rental, etc., we are asking for $30 per singer. Please send checks to:
Bertram Gulhaugen
2428 SW Holden St unit B
Seattle, WA 98106
If it's more convenient to pay using your credit or debit card please do so on Brown Paper Tickets: https://pnwuumf.brownpapertickets.com
Time is of the essence so please let Cathleen know ASAP if you think you might attend. Download event flyer for more information »