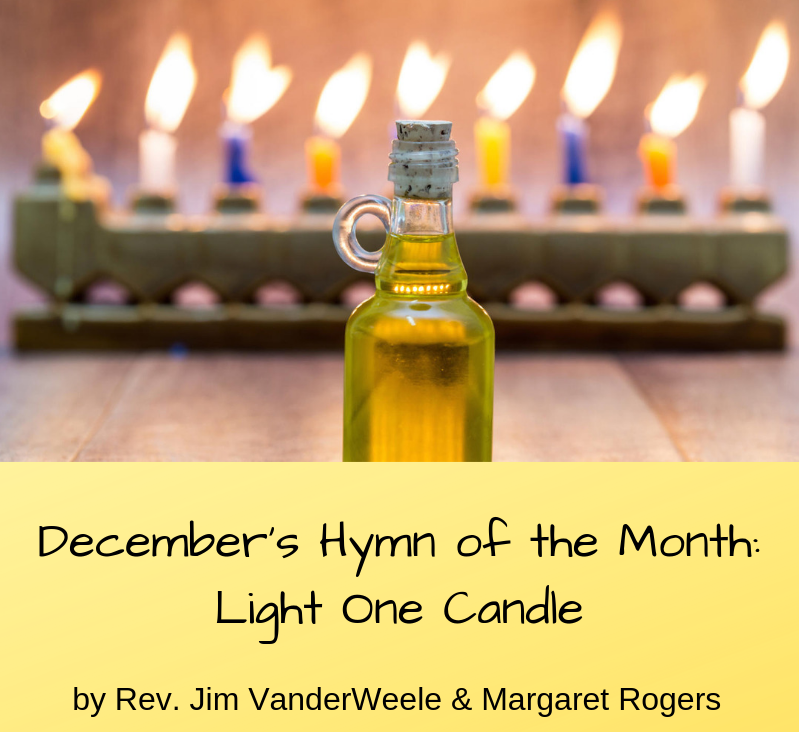 Northlakers will be singing "Light One Candle" during the busiest holiday month of the year. Its lyric refers to an incident in Israel from 164-164 BCE. Peter Yarrow, its author, reminds us not to let the light go out in the struggle for liberation but also to recognize when peacemaking is needed.

Israel was part of the Seleucid Empire at that time. Its Emperor, Antiochus IV, was in the process of secularizing his Empire. Several of the Jews customary religious practices had been forbidden. Circumcision and the Sabbath had been deemed illegal, but the erection of an altar to Zeus and the sale of pigs, both of these within the temple, was the last straw for Mattathias, a Jewish priest, and his family.

While many Israelis had accepted these Hellenistic influences, Mattathias's family (a.k.a. the Maccabees) protested. They revolted against practices that had desecrated their temple and faith, fighting against these Jewish adversaries, and defeated Antiochus's forces in 164 BCE.

One of their first steps was to light the Menorah (the candles in the temple) but they found that the Seleucids had contaminated their oil. One cruse of pure oil remained, enough to last one night. No additional oil was available. The miracle that led to Chanukah was that the menorah's oil continued burning through eight days and nights. In the Jewish tradition, Chanukah celebrates that the Jewish people, culture, and religion survived. It is a celebration of resilience and endurance.

We will join with them in celebration of this December mystery by lighting Chanukah candles in our service on December 2, paying UU homage to this Jewish tradition on the first day of Chanukah, 2018.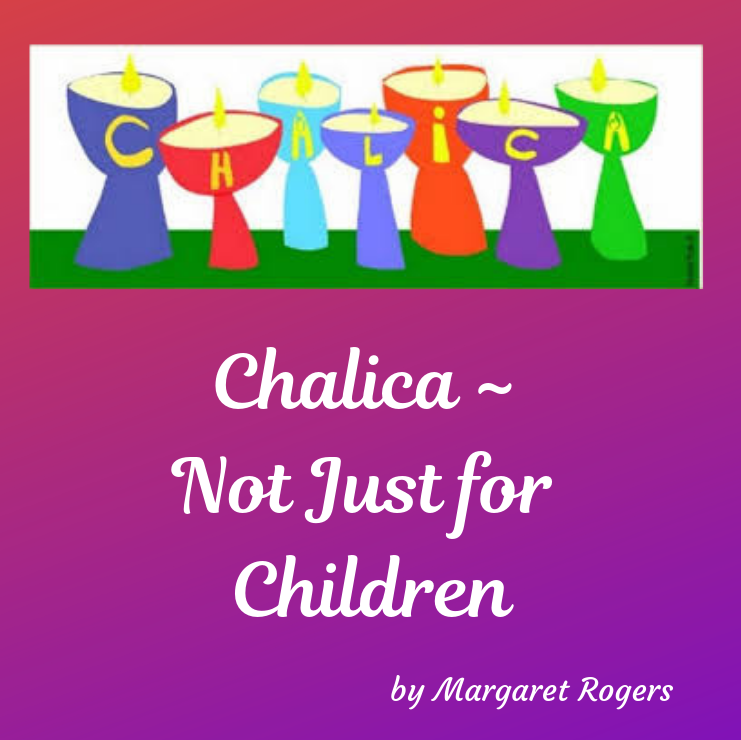 Have you heard of Chalica? You may have – we've talked about it the last couple of Decembers, and families may have picked up a Chalica guide last year or the year before. But it wouldn't be a surprise if you haven't heard of Chalica either. It's a newcomer to the December holiday set. UU World (the quarterly publication from the UUA) ran a story about Chalica in 2009. You can access it online here. (And I can't help but mention that the current issue of the UU World has many great articles as well, that you might also want to check out.)

Briefly, Chalica runs from the first Monday in December to the following Sunday. In the Seven days of Chalica, we are encouraged to think about each of the Seven Principles. Now, you can go simple or complex with this. It might be that you pose a question related to the Principle of the day at a meal with family or friends, or you can look for a project or action that has meaning for you to honor that Principle. Chalica is about time spent in thought and in conversation, it's a low-key holiday.

This year, I am so excited to share a resource that I found that focuses on Chalica for adults. There are Chalice Lightings for each day, a reading, and a meditation, in addition to some suggested activities. The readings and meditations are really focused on inspiring a deep look at each principle and at Unitarian Universalism and what holds us together as a faith community.

Copies of the Chalica resources are available in the Sanctuary (pick one up on Sunday morning this week – and if you are not at Northlake, feel free to email me for a copy). You will find both versions – one for adults and a supplement for families, on a table in the lobby at coffee hour. And if this week isn't the best for your schedule, feel free to choose the seven days that work best in your calendar to celebrate Chalica!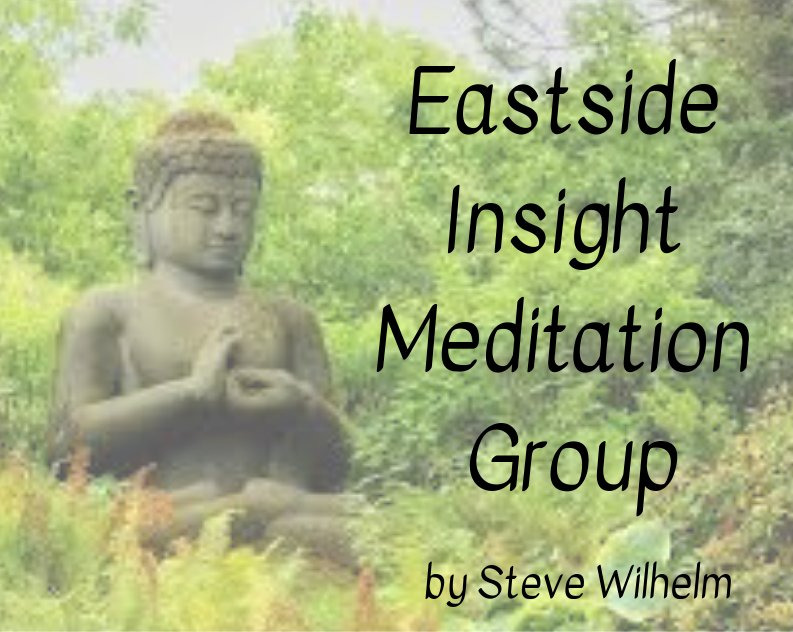 Insight meditation offers people a way to navigate life and the world with less impulsive reactivity, and with more conscious response. The on-going Eastside Insight Meditation group, offered through the Adult Religious Education program, offers just that to Northlake Unitarian church members, and to people from the wider Eastside community. No prior meditation experience is needed.

Twice monthly, on first and third Thursdays at 7 p.m., we gather in Northlake's chapel to meditate together. The period of silent mindfulness meditation, also called insight meditation, is a period of peace for people with busy lives. We usually sit for 40 minutes, long enough for the people's active minds to settle, and for them to cultivate more awareness, yet another word for mindfulness. Come as often or infrequently as you wish.

The evening sessions of Eastside Insight Meditation include several elements, all intended to encourage the building of community on the Eastside.

We start with the meditation period, sometimes with some words of introduction about how to meditate, because practicing together is the essence of why we gather together. There's power to people meditating together, and over the 40 minutes people settle more into the moment, more able to cultivate mindfulness no matter what arises in their minds and hearts.

We then break for tea and a chance to meet one another socially. The mix of Northlake people and those from the larger community can be fruitful and rich.

Next we sit in circle to check in, an opportunity for people to authentically share how their lives are proceeding. They also share any support or wisdom they're gleaning from their spiritual practice, and how they're applying that wisdom to any obstacles that may arise. It's a bit like the "joys and sorrows" segment of a Sunday Northlake service.

The evening always ends with some teachings on the Buddhist spiritual path, formally called "dharma." Often we bring in Buddhist teachings, and recently these have included Sister Jendy, a Taiwanese nun from Kirkland; Ven. Dhammadinna, a nun in Tibetan practice from Seattle; Jerry Harter, a mindfulness meditation teacher from Seattle, and Emily Carpenter, a mindfulness meditation teacher from Portland. Northlake member Steve Wilhelm, co-founder of the group more than 15 years ago, also teaches.

There's always plenty of time for teachings and discussion.

Sometimes we coordinate special events. These include a day of mindfulness at Northlake, scheduled for Saturday, Jan. 12. This will be led by Steve and Emily. Also we're offering a six-week insight meditation course, on Mondays at 7 p.m., starting Jan. 14.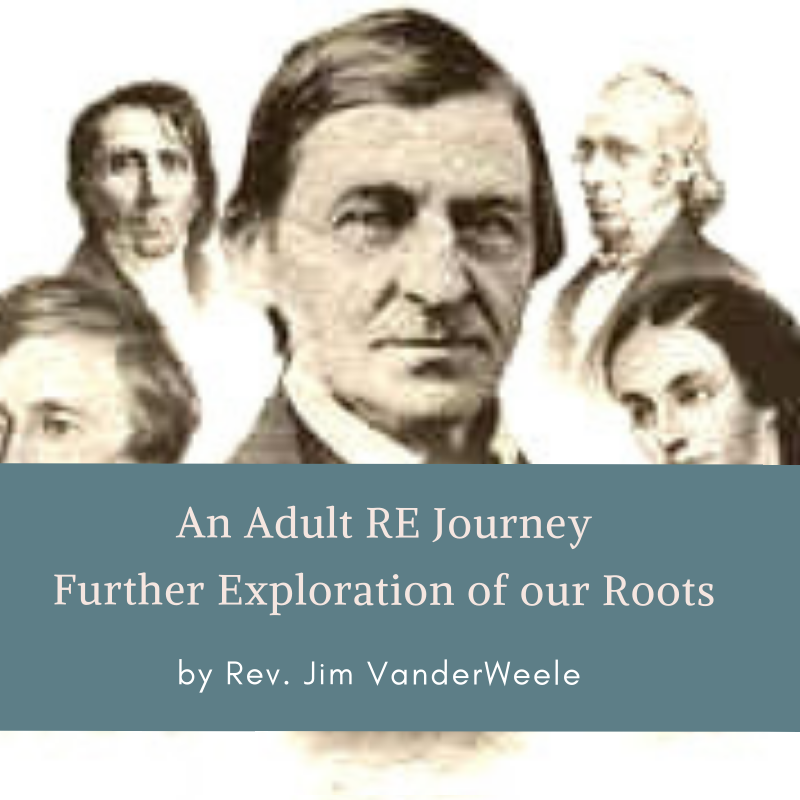 There have, for many years, been times when mysterious events have reshaped my point of view. One of those shift-of-consciousness events may have happened recently.

I attended a Unitarian Universalist minister's luncheon and was surprised to see several ministers who had not been there before. One was the Reverend Barry M. Andrews, a retired minister, who has written and edited books on Ralph Waldo Emerson, Henry David Thoreau, and Margaret Fuller. He brought his most recent book with him: Transcendentalism and the Cultivation of the Soul.

Andrews was born in Seattle, graduated from Gonzaga University and the Meadville Lombard School of Theology. He has been a Scholar in Residence at the Thoreau Institute and a Merrill Fellow at Harvard Divinity School. He is the author of Thoreau as Spiritual Guide and Emerson as Spiritual Guide and edited anthologies on Emerson, Thoreau, and Margaret Fuller. I decided to purchase Transcendentalism and the Cultivation of the Soul before lunch ended. Though I have not ventured far into the text (just the first two chapters) I have enjoyed this exploration of a movement that has had a heavy influence on our faith—and would like to share that with you.

Transcendentalism began with meetings at Ralph Waldo Emerson's home. "The so-called Transcendental Club met nearly thirty times in a four-year period, beginning in 1836," writes Andrews. Its membership included James Freeman Clarke, Frederic Henry Hedge, Theodore Parker, Amos Bronson Alcott, Elizabeth Palmer Peabody, George and Sarah Ripley, and Caroline Healy Dall, all of whom not only came together for textual studies but also participated in the shaping of American culture. Louisa May Alcott, the daughter of Amos Bronson Alcott, was too young to attend, but acquired many of her father's views during the early years of her life.

As Andrews wrote, "Transcendentalism is often viewed as a literary movement that flourished in the early nineteenth century… (but) I believe Transcendentalism is more accurately described as a religious movement. It emerged from New England Unitarianism in reaction to the Christian theology of the time." He adds, just a bit later, "Although the Transcendentalists introduced the distinction between religion and spirituality, their quarrel was not with 'churches and religions' per se, but with the theological and social conservatism of Christian churches of their day, Unitarian churches included."

I expect to set up a series of discussions on Transcendentalism and the Cultivation of the Soul after the first of the year. These Adult RE gatherings should provide a great follow-up for all who are interested in learning more about our faith. Meeting times will be set later. Please stay tuned for further details.

Search Team Update – What's happening in December?

Your Search Team has been busy this month! We have used all the data we gathered in the cottage meetings and online survey to create a congregational record, which will give prospective ministers important information about our congregation so they can decide if they are interested in applying at Northlake. Our congregational record will be available to prospective ministers through a UUA database on December 1st. The Search Team will begin receiving and reviewing application packets from ministers on Jan 2nd.

Thank you to everyone who attended the Beyond Categorial Thinking workshop with Eddy Carroll on November 4th! Eddy gave a very moving personal sermon followed by a thought provoking afternoon workshop. The Search Team is beyond grateful to Eddy for traveling to Kirkland to spend some time with us and to begin to help us examine how identity influences the search process.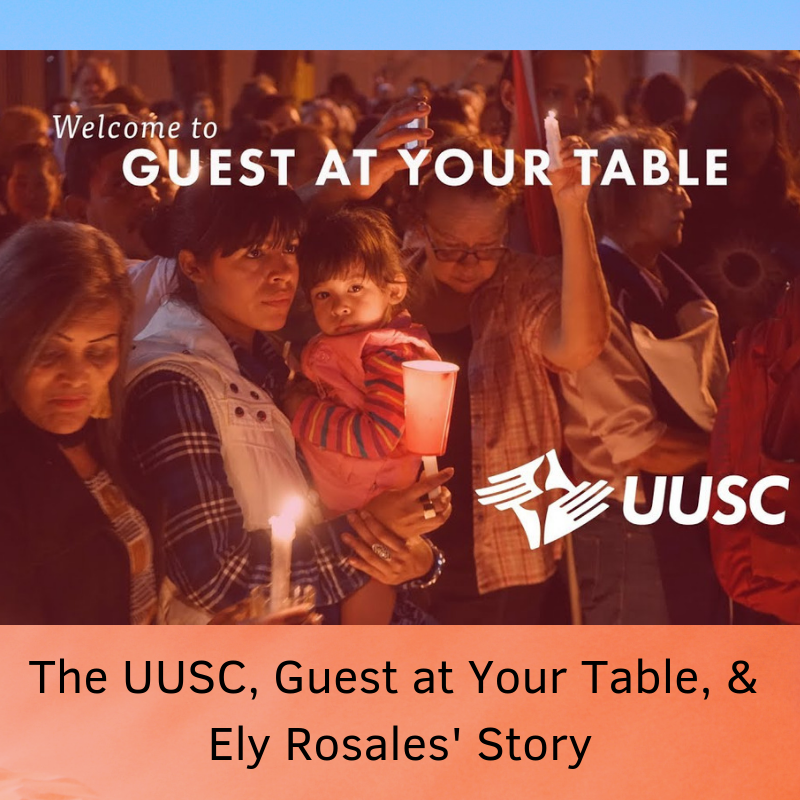 The Unitarian Universalist Service Committee (UUSC) is a nonprofit, nonsectarian organization advancing human rights. We focus our work on intersecting roots of injustice to defend rights at risk due to criminalization and systemic oppression of people.

The Mission of the UUSC:

UUSC advances human rights and social justice around the world, partnering with those who confront unjust power structures and mobilizing to challenge oppressive policies. Our work is grounded in the belief that all people have inherent power and dignity.

Guest at Your Table:

This year's program is focusing on providing refuge in the United States.  The stories of four "guests" included here from UUSC partners provide a personal glimpse into some of the root causes leading Central Americans to flee their homes, the experiences many have along the way, and the common barriers migrants face when they reach the United States. I am delighted to introduce you to this year's "guests": Ely, Clementina, Valentina, and Argelia. Their lives have been changed because of the generosity of people like you. In turn, I hope their stories will be an inspiration to you. I encourage you to support this year's "guests" and thousands of others impacted by UUSC by making a donation online at uusc.org/guest or by using the reply form on the box you may place on your table.  Thank you for inviting these inspiring individuals into your congregation, your home, and your heart.

2018-2019 Theme: Justice Across Borders
 
From the Northern Triangle of Central America, to the deserts of Mexico and Arizona, to detention centers in the United States, the road away from danger is paved with injustices. Partnering with grassroots allies along the Central American migration trail, UUSC addresses root causes, supports migrants in transit, and protects the right to seek asylum. Join with UUSC for Guest at Your Table to learn more about UUSC's and our nation's involvement in Central America – historically and presently – and our courageous Migrant Justice partners. 

Pick up a Guest at Your Table box in the foyer after church this coming Sunday.  The idea is to "feed" the box at each meal as though it were a guest.  Plan to return the box and your donation in … weeks.

Here is the story of Ely Rosales. His story can give you insight into how UUSC funds assist migrants as well as what it's like to be on the "trail. Look for the stories of other migrants in your OOS over the next several weeks.

Ely Rosales

"We want to rebuild our country in the interests of the people."
 In Honduras, speaking out against injustice is an enormous risk. Human rights workers, activists, and journalists face sabotage, property damage, death threats, beatings, and worse.

Ely Rosales knows the dangers of working for human rights in Honduras, but he chooses to do it anyway. Ely works for one of UUSC's partners in Honduras, a radio station called Radio Progreso, which provides a rare independent media space amid waves of propaganda in favor of President Juan Orlando Hernández.

Ever since the November 2017 re-election of Hernández, the reasons to speak out have increased – and so have the dangers. Although the Honduran Constitution clearly states that presidential reelection is prohibited and cannot be amended (and amendments are to be made by the Congress), Hernández made his way onto the ballot after a controversial Supreme Court ruling during his first term.

On top of this ruling, Hernández's victory on election day – marred by suspiciously timed black-outs of polling stations – was widely viewed as fraudulent. Since then, protests in the streets have been met with deadly military crackdowns. Over 30 people have been killed by police.

Reaching over 700,000 listeners daily, Radio Progreso covers a wide range of topics, from politics to environmental issues, as well as a weekly feminist talk show. Ely explains, "We open the media space to the people in order for them to express their ideas and opinions about what is happening in our country."

Due to their candid reporting on the election and police repression, Ely explains, "We suffer many threats from the government." In one recent and costly case of sabotage, one of Radio Progreso's transmission towers was knocked down in the middle of the night.

In the face of such immense challenges, Radio Progreso has not been deterred and has even increased their outreach efforts since the election. With UUSC's support, they continue to broadcast daily and share news about the political unrest in Honduras with U.S. media outlets. In addition, Ely and Padre Melo, the founder and director of Radio Progreso, recently testified before the U.S. House of Representatives' Tom Lantos Commission on Human Rights.

Buoyed by the presence of others working for human rights – whom he calls "social fighters" – Ely maintains a strong feeling of promise for the future. He explains, "We are full of hope. We are in this because we believe we can find some way to get better conditions in our country for the majority."