Celebrating 60 years!
On May 15th we will celebrate the 60th anniversary of the charter for the Northlake Unitarian Universalist Church. Since the Unitarians and Universalists became an association in April of 1961, we were the first church to receive a charter.
Much has happened to NUUC in the past 60 years! We have moved locations, built new buildings, changed ministers, changed missions and done much work to become the loving, committed community we are today.
Come celebrate! On Saturday, May 15th we will have a special worship service beginning at 2:00 p.m. with greetings from Rev. Dr. Susan Fredrick-Gray, the President of the Unitarian Universalist Association, along with Regional Staff and previous Northlake ministers. There will also be a slideshow of pictures from over the decades. The zoom link is: https://zoom.us/j/94831922066
After the service, we will have an outdoor reception in the parking lot of Northlake. Sign up for a time to come by and greet friends from a distance, get a cupcake and leave messages of support and love!
Please join us!
---
Installation Service
– Rev. Nancy Reid-McKee, Minister
Although I have been with this congregation for 22 months, the pandemic that closed our doors interrupted our Installation plans.
The Installation of a minister is a lovely ritual in which the members of Northlake formally invite the new minister to become their called minister. It is a time to honor our commitment to each other: each of you promise to uphold our covenant and work with me, and I promise to you that I will love you and do the work we envision together.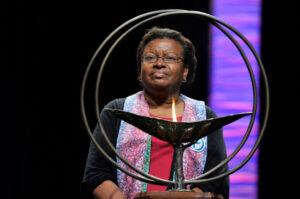 On Saturday, May 15th we will perform this Installation Service (in junction with our Anniversary Service) for Northlake and me, Rev. Reid-McKee. I am honored that we will be joined by ministers from all over the United States who will be present to witness this ritual. Of special note is the sermon that will be given by my Internship Supervisor, the Rev. Dr. Natalie Fenimore.
Please plan to be part of this special service, honoring our commitment to our future together.
---
Say Her Name
– Rev. Nancy Reid-McKee, Minister
This week, just as we were hearing the news about the guilty verdict for the officer who killed George Floyd, a 16 year old girl was shot and killed by the police in Columbus, OH. Know her name. Ma'Khia Bryant.Say her name.Ma'Khia Bryant.
Some believe the verdict of Officer Chauvin was a move for justice. It was not; it was the move toward accountability. Justice will be served when there is an end to the killing of black, indigenous and colored folx.
If you are like me, you may be responding with disbelief, wondering how this type of killing can continue, especially after the protests and rioting over the past year. If you are a UU like me, you may be wondering what role you have in all this, being part of a system that seems to allow this to continue.
Please stay with us during this next year as we deepen our exploration of how complicit we might be in a system of white supremacy culture that can be insidious in nature. It may be hard and painful, but it is the work of the church to challenge each of us to assure we are all about bringing love, compassion and justice to all people. Please, say her name, then move toward a commitment to change this system. I say this with pain and sorrow in my heart.
---
Northlake Data Collection
– Rev. Nancy Reid-McKee, Minister
Recently we have noticed two big gaps in the information we have about the congregation. These are related to birth dates and emergency contact information.
Why do we want your birth date? Because we have no way of assessing the demographics of this congregation. In meetings people may say "Well, this is an older congregation", or they may say "We don't really have youth in our church", but are these statements true? In actuality, we have no idea, because we don't know what year our members were born.
Review of census data for Kirkland shows that the largest age bracket in the city is between 30-34 years old. Could that be true for our church as well? We don't know. But this information could help us determine what types of programs we should offer, what times of day we should schedule meetings, etc.
And we are looking for the name and contact information for someone who lives outside of your home so we know what to do in case of the unexpected. If an earthquake forces you to flee, smoke requires you to shelter in a place with safer air quality, or a personal crisis requires us to notify someone about you, we need to have contact information!
In the short time I have been here we have had two situations where I needed to talk to someone about the death of a loved one, but had no contact information for the family or friends.
This resulted in waiting weeks before we could make plans and offer support.
Please help us get our data up to date! Send your birthday and contact information to the Northlake office: office@northlakeuu.org
---
UUA General Assembly 2021
– Carolyn H.
Consider registering to attend this year's UUA General Assembly, entirely online, from June 23 to 27, 2021.
Come for inspiring worship services, outstanding music, catching up on denominational projects from across the country, keynote speakers, and workshops on a huge variety of topics, from "Beyond the Gender Binary" to "Caring for Grievers" and "Peace-making."
The registration fee for 5 days of programming is only $200. In addition to Rev. Nancy, Northlake has four voting delegates already registered: Diane D, Steve W, Melissa A and Carolyn H. DRE Margaret, Dave T., Judy J, and Janet K are also registered.
This is a unique opportunity to participate in a high quality program, interacting with UUs from across the country, without incurring transportation and hotel expenses. Those who participated in last year's virtual GA praised the sophistication of the use of technology. Most everything went very smoothly, with no concern about workshops being too full and no mad dash to get from one event location to the next. There's a new app this year, just for registrants, that allows them to easily communicate with one another and easily create their own personal schedules of events to attend.
The UUA recently announced two speakers as this year's Ware Lecture presenters: Stacey Abrams and Desmond Meade.
Most of us remember Stacy Abrams from recent election challenges in Georgia. She served as Democratic Leader of the Georgia House of Representatives for 7 years prior to running for Governor of Georgia, where she won more votes than any other Democrat in the state's history. She launched Fair Fight Action after the 2018 gubernatorial election to ensure every American has a voice in our election system, Fair Count to ensure accuracy in the 2020 Census and the Southern Economic Advancement Project, a public policy initiative to broaden economic power and build equity in the South.
Ms. Abrams' co-speaker, Desmonde Meade, is a formerly homeless returning citizen who overcame many obstacles to eventually become the President of the Florida Rights Restoration Coalition (FRRC), Chair of Floridians for a Fair Democracy, a graduate of Florida International University College of Law, and a Ford Global Fellow. He is the author of Let My People Vote: My Battle to Restore the Rights of Returning Citizens, published by Beacon Press in October of 2020. He was recognized by Time Magazine as one of the 100 Most Influential People in the World in 2019.
Preview the program offerings →
There will also be an Exhibitors area, open throughout the conference, where you can interact with representatives of many organizations, such as Citizens Climate Lobby, Covenant of UU Pagans, Final Exit Network, UU Animal Ministry, or UU Humanist Association, as examples. There will also be many items available for purchase, such as Fair Trade crafts, custom-made chalices, and books.
Northlake's Denominational Affairs Committee will be coordinating communication among Northlake attendees, so that we can coordinate our activities and make sure we don't miss something important to our congregation.
---
Resource for Diverse Media
Did Janelle's sermon on 4/25 on representation in the media inspire you to want to seek out more "windows" into the lives of diverse people? If so, Janelle also created a resource for you. A blog post that offers:
questions you can ask yourself about whether media you're consuming is representative and inclusive
stereotypes and tropes to watch out for
links to lists of recommendations on movies, TV, and book about all sorts of diverse folks
Find it at: https://janelledurham.com/2021/04/24/seeking-out-diverse-media/
---
Memorial Day
Memorial Day is traditionally the time we honor those who have died during military service.
At Northlake, we take time to also remember family or close friends who have died in the recent past.
This coming Memorial Day will be held on May 30th, and to do this online, we are asking you to send pictures of those you want honored to the Northlake Office by May 22nd.
Please send us a photo of who you want remembered, along with their name, date of birth and of death. We will show these during the service and invite you to talk briefly about their life.
---
It's a Breeze!
The Northlake office has moved all our friend and member records to a new data system called Breeze. (The previous system was called FellowshipOne).
As we move into the fall season Becky Walker, the Campus Administrator, will start to offer training on the new system as it can also serve as an online directory for the church. This is a secure system, and there are walls that do not allow access to private information.
If you are used to using FellowshipOne, please contact Becky so she can help you with this new system.
---
Guest Speaker on May 23rd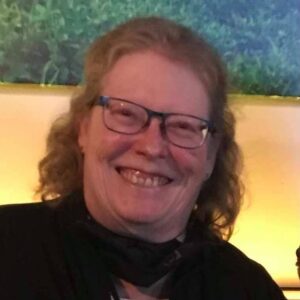 Rev. Jamie Norwich McLennan will speak on "Windows into a Foreign Land… here at home."
We live in a country that threatens to be forever divided into "Reds" and "Blues", "Haves" and "Have Nots", those who are educated and those who think education is a means of coercing and brainwashing our children. Us versus Them thinking is causing us to lose our relationships with old friends and family, threatening to divide and separate us from one another, causing irreparable harm to a society that proclaims value in diversity.
While some in a Post-Trump, mid-COVID United States have cut ties with those they disagree with, others are looking for ways to look through the window of unity, seeking understanding of those who believe differently. Using the language of welcoming, respect, and listening, we will seek to find a way of growing beyond that which divides us. And, even if we cannot quite make that leap, we will look for ways to begin conversations that help us to understand those who seem to share a similar background yet tell a very different story.
Speaker bio: Originally from Wyoming, Rev. Jamie Norwich McLennan is in her third career, serving as an ordained Elder in the United Methodist Church. She has served churches in Nebraska and Kansas, with membership sizes of 30 to 2,000 members. She has been a Solo Pastor, Lead Pastor and Associate Pastor, serving urban, rural, college and mission congregations. She is currently serving two small churches in small towns in rural Kansas. She is a published poet and liturgist and enjoys designing and leading retreats and large worship experiences.
Her connection to Northlake is through her sister Janelle Durham and family, who have introduced her to this congregation, Eliot Institute, and the UU Church.
---
Wondering About Air Circulation at Northlake?
– Dave T.
There is more evidence all the time that COVID is an air-borne illness, and that being indoors increases the risk of transmission of this respiratory infection. Rooms that have good circulation or air filter systems in place are safer. In our buildings we have taken the following measures:
In the main building, in both the upstairs and downstairs systems, we are completing installation of filters in our air systems that use ionization to clean the air that circulates through them when the heating or air conditioning are on. In addition, the Sanctuary has a large vent fan that expels air from the building and will be used with the windows open. The church offices, which have separate heating from the downstairs system, each have portable HEPA filter units that filter out virus particle
In the Chapel Sanctuary and Side room, there are portable HEPA filter units and we recommend that the windows be opened as possible. The downstairs classrooms have always had an energy-efficient fresh-air ventilation system that exhausts the inside air and draws fresh air from the outside. As well, the many windows can be opened and portable fans to circulate the air, as the school does today.
The Hanly House furnace filters have been upgraded to MERV 13 to filter virus particles. As well, the windows can be opened and a window fan used.
Right now no Northlake activities are happening indoors, but when we are able to return to our space, be assured that part of our plan to protect our health includes our ventilation and air circulation!
---
May Birthdays
Ronan B. 5th
Clara M. 6th
Lorena B. 15th
Grant A. 25th