Get Involved
Note: We look forward to the time when we can resume in-person activities. Not all of these activities are currently available, and all activities that are happening are held online on Zoom.

Every Sunday morning, our community comes together at our worship services. But there's a lot more to Northlake than weekly services. We encourage all our members to participate in:

There are many options available to you. All of these regularly scheduled activities are open to all. Come and join us! Participating in smaller groups helps you deepen your connections and get to know your fellow Northlakers better.


Activities to Feed Your Spirit and Give You Joy
Have Fun and Make Connections at Northlake Social Events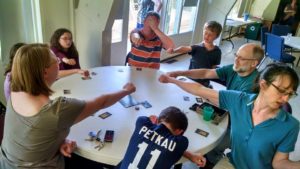 Second Saturday Socials – We have a social event on the second Saturday of every month, typically in the evening. These include Board Game Nights* at church, outings to local Restaurants, Cottage Suppers at member's homes, and summer picnics*. Watch the weekly announcements emails or look in your Sunday Order of Service for the details on this month's plans and how to RSVP.
Third Sunday Potlucks* – We have a potluck lunch on the third Sunday of the month, in the sanctuary after church. We ask that everyone bring an item to share. (Although if you are simply not able to do so, you're still welcome to attend!) On these days, please help with setting up tables after the service, or cleaning up after the potluck.
Participate in Affinity Groups – Connect over Shared Interests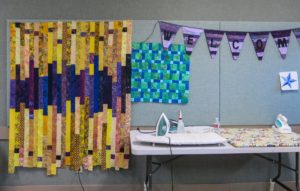 Explore Spirituality, Learn, and Get Support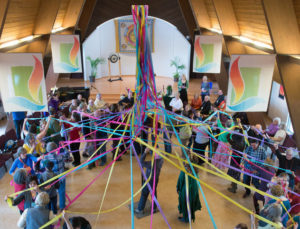 Service to Support Our Community
Support our Sunday morning Services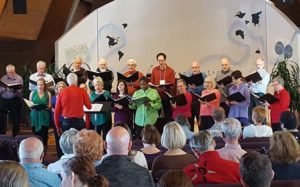 Music – We have choir twice a month. At other services, we welcome special music. If you sing, or play an instrument, we'd love to hear you! Contact our music director.
Worship Team – You can help by setting up the room, putting away worship supplies after the service, creating PowerPoints on Friday or Saturday, running slides or audio in the service, or serving as celebrant or song leader. Or plan and implement sanctuary decorations to match monthly themes.
Greet Newcomers or Usher – Support the Membership Team in helping all to feel welcome at Northlake. (Ushering is a great way for a new member to help.)
Coffee – Each week, a different group or committee hosts coffee hour, providing snacks, setting up, and cleaning up. All those groups would love your help – just show up and offer! (Another great option for new members who would like to help out.)
Assist Behind the Scenes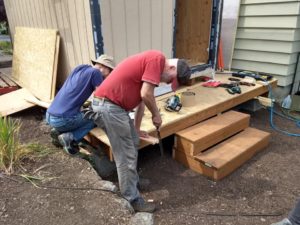 Make a Difference with Social Justice Events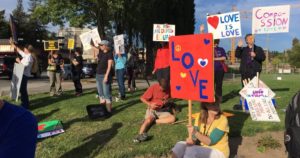 Immigration detention center. On the last Saturday of each month, join a carpool to Tacoma to support family members who are visiting loved ones who are being detained.
Community suppers Several times a year, we provide food, serve a meal, and join attendees for dinner. Tuesdays 5 – 7 pm at Holy Spirit Lutheran.
Vigils, parades, marches* – As events in the community and the world demand, we gather to show our support for peace and love and to speak out against injustice. Join us!
* For kids and parents: Northlake is committed to facilitating family involvement in activities whenever possible. For adult groups, childcare is available if requested in advance, and children and youth are encouraged to participate in all activities marked with a "*".  Parents are always welcome to sit in on the children's RE program.
This page describes the standard schedule for recurring events, but be sure to double-check the Northlake calendar for the most up-to-date schedule and locations of upcoming events, or subscribe to our weekly announcements.
Be sure to also learn about annual traditions, including Animal Blessing service, SummerFest and other summer FUUN events, and more.
As you become more involved at Northlake, you are encouraged to become a member. Learn more about the Pathway to Membership.