Northlake Values
Northlake Values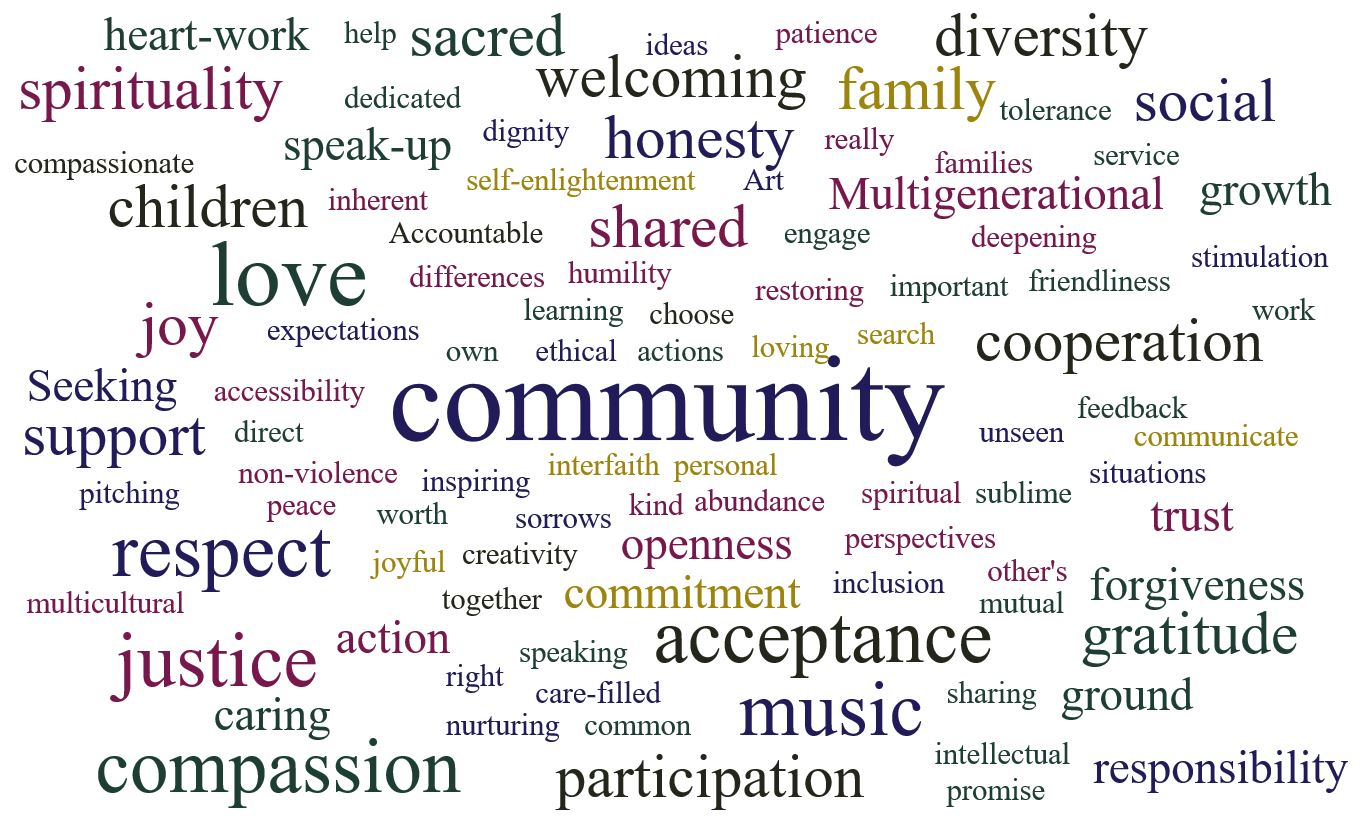 Our values are rooted in the Seven Principles of Unitarian Universalism. At a recent series of workshops on congregational covenants, we discussed the values that we think define Northlake specifically. The words that arose time and again are included in the word cloud above. This is a summary of how we strive to be:
Who Are We?
We are an inclusive, welcoming community, which honors differences, and appreciates a lively exchange of diverse ideas and unique perspectives. We are a multi-generational community, where children, elders, singles, couples, and all family constellations are valued.
Why Are We Here – What Brought Us to Northlake and What Keeps Us Here?
We came seeking community, connectedness and belonging to a group with common values. We came seeking personal and spiritual growth, inspiration, connection to the sacred, thought-provoking ideas, and opportunities to engage thoughtfully on life's big issues. We came seeking others who will speak out and work for equality, justice, and peace. And many of us brought children along to be a part of all these experiences.
What Do We Do?
We worship together. We nurture each other, we share our joys and our sorrows, we listen compassionately, and we offer concrete support in times of need. We care for the Earth and for our fellow humans, reach out to our community, and work for social justice. We are a community where people pitch in: shared leadership, lay involvement in worship, expectation of participation and a high degree of community engagement mean that this is a place where you can make a difference.
How Do We Communicate with Each Other?
Our covenant of right relations reflects a shared commitment to be: open, honest, and respectful. We commit to seek common ground, look for good intentions, be patient and courteous, and seek to understand each other through attentive listening. We pledge to speak up in difficult situations, be direct, and say what we feel in a kind and caring way. We take responsibility for our own actions and are accountable to others. We are forgiving.
How Do We Celebrate Together?
We work to create a culture of gratitude and abundance. We value art, creativity, and music. We participate in inspiring and engaging Sunday services. And we laugh, sing, dance, play, and have fun together. Learn about our annual traditions.