In 2013, Northlake created a five year plan which is detailed on this page. We have reached the end of that five year plan. After our new settled minister joins us in fall of 2019, we will create a new long range plan.
Introduction
This plan was developed by and for the congregation of Northlake to express its vision and aspirations for the future. The plan consists of a vision, vision statement, and a set of 5 year goals. The set of five-year goals provide the guidance to achieve that vision. The development of the plan was led by a Long Range Planning Task Force chartered by the board, and included a congregational visioning workshop, and a committee planning phase, along with reviews by the congregation, the board, and the committee chairs.
Our Vision
To be a vibrant and welcoming community,
feeding the human spirit, lighting a beacon for love and justice.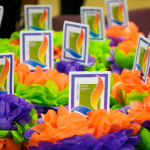 Our Vision Narrative
Spiritual seeker, rational thinker, compassionate soul – welcome to a religious home where you can be your whole self.
We call ourselves Northlake, and we don't claim to have easy answers. We're an open-minded community with a shared commitment to love in action and an optimism about growth – in ourselves and in the world.
Together, we make Northlake a place that nourishes the spirit and encourages learning. We create many safe spaces for exploring the questions deep inside. We support each other's unique journeys, including those of our children. But we don't take ourselves too seriously – our Sundays are joyous and even jazzy. Walk away inspired and renewed!
Together, we make Northlake a vibrant and loving community. We embrace you with open hearts – you don't have to leave behind a part of who you are. Walk through our open doors any day of the week, and you can find a way to participate – or create one.   Connect over creative outlets, cross-generational activities, or just over a meal. As a community, we come together in laughter, and stand with each other in our sorrows.
Together, we promote compassion in our local community and in the world at large. We stretch our hands out to create interfaith conversations and loving acts of social justice. We're "walk the talk" people. You'll notice our name, our t-shirts, and our songs in public, as we give, serve, build, and set new examples.
Come light a beacon for love and justice. Draw your strength from this community, and take a hand in holding it up. Northlake is a place of "We" – we welcome your light.
Five-Year Goals
To guide us in achieving our vision, a set of goals for the next five years were developed.   Each year, the five-year goals will be used to inform the setting of the annual goals and budget of the church.   They are grouped in eight themes, or ministries, based on the collected input from the congregational visioning workshop of January 12, 2013.   The ministries are Spiritual Growth, Welcoming Experience, Vibrant Community, Diverse Congregation, Community Outreach, Beacon of Justice, Exciting Sundays, and Sustainable Organization.   The ministries, and goals within each ministry, are outlined below.
Spiritual Growth

Active Children's Religious Ed & Adult Religious Ed programs (numbers and variety of programs, participation level)
Sunday morning services include exploration of spiritual topics
Active small groups with spiritual focus

Welcoming Experience

Welcoming grounds and buildings
Consistently warm and friendly, informative welcome
Accessible facilities and services
Compelling website

Vibrant Community

200+ members including a strong Young Adult (YA) program
75+ children in RE, strong youth program, well supported by adults
Free-flowing intergenerational interactions and activities
Great communications: newsletter, social media, e-groups
Members are active and connected in multiple ways
Fully engaged UUA member congregation (local, district, and national)

Diverse Congregation

Diversity of generations, ethnicity, race, socio-economic status, orientation
Inclusive language, words and symbols

Community Outreach

Active interfaith connections and activities
Share our dollars (target 5% of pledges), our time, and our resources with our community
Participate in UU global outreach (e.g. UUA Partner Church program, UUSC College of Social Justice)

Beacon of Justice

Identify 1-3 social justice priority areas annually
Participant in one or more alliances for social justice
Include Social Justice in Sunday Services and Children's Religious Ed programs

Exciting Sundays

Creative, compelling services reaching across generations
Expand musical variety and breadth of appeal (e.g., vocal music every week)
"Super excellent Sundays", attendees likely to recommend to others
Sustainable Organization

Financial stability (reduce debt and rental dependency)
Sufficient financial resources to support programs (including staff)
Policies and procedures documented and accessible
Leadership development opportunities
Use our buildings to support our mission
Broad participation in financial and volunteer support
Environmental sustainability in our programs, activities, buildings and grounds
Going Forward
This plan is the fruit of our collective efforts. It is intended as a guide for the board, staff, committees and congregation of Northlake going forward. It is a living document, to be revisited regularly.   To achieve our vision, it's up to all of us to maintain the collective spirit and energy – and make it happen!