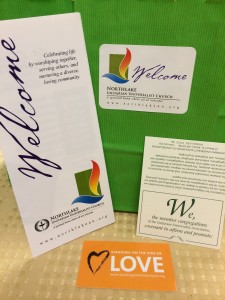 You are not required to be a member of Northlake in order to attend our services or participate in most aspects* of life of our church community. However, if Northlake becomes an important part of your life, we encourage you to consider committing to our community by becoming a member.
Step 1: Get to Know Us. Do any of these activities that inspire you:
Step 2: Attend a newcomer orientation luncheon, sponsored by our membership committee.
Step 3: Meet with our minister.
Step 4: Sign the membership book. Then the board approves membership.
Step 5: Be welcomed by the congregation!
Once you are a member of Northlake, you'll continue your participation in the life of the church, including participating in the democratic processes of our UU congregation such as voting on governance matters, making a monetary contribution each fiscal year that is significant for you, and giving of your time and talents to support Northlake.
To learn more, contact the membership committee.
* Membership is required to vote at congregational meetings on issues such as electing the board of trustees, approving the budget, and calling a new minister.