NORTHLAKE SANCTUARY & CHAPEL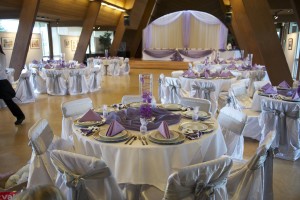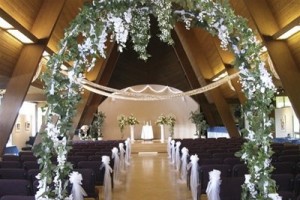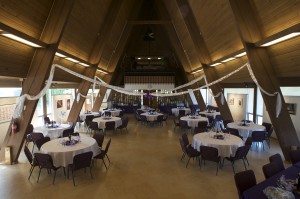 The Northlake sanctuary accommodates from 20 to 225 guests. The building is beautiful in its own right and doesn't require extensive decorating for a festive event, but you are certainly welcome to add decorations, being careful not to damage the walls. This venue can seat up to 225 for the ceremony and up to185 for the reception. The beautiful floor is a tremendous asset for dancing if you choose to include music and dancing at the reception.
You are welcome to use our sound system and our tables and chairs, plus we complete the cleanup after the event. You are responsible for removing personal items and storing tables. We have 150 plush chairs and 85 metal, folding chairs that you can use. You may be able to arrange for more plush chairs if necessary.
The sanctuary furniture can be arranged in a number of different configurations, and it can be comfortable for parties of fifty to two hundred. The photos show a number of different configurations and decorating ideas.
The vestibule of the sanctuary is large and can accommodate caterers, serving tables, and display for gifts if your party is large, leaving more room in the main sanctuary for tables. Several tables are available for use in the vestibule, and there is a small kitchenette. There is a larger kitchen and more room downstairs from the sanctuary.
Different decoration makes an entirely different look for the wedding. More info…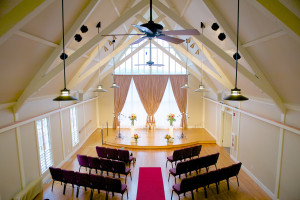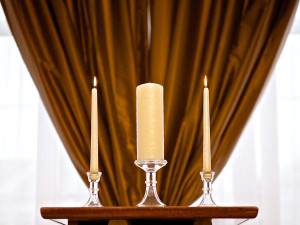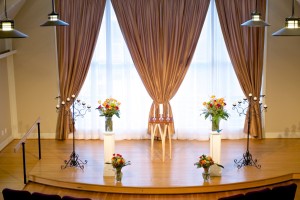 Northlake Chapel is a beautifully restored historic church, originally built in 1938. This venue is more intimate than the main sanctuary and is perfect for wedding ceremonies and smaller receptions. Many couples choose to hold their wedding ceremony in the chapel, and their reception right next door, in the main sanctuary. This allows the reception to be set up in advance, and can accommodate more guests.
The chapel has newly-restored fir floors and beautiful millwork. There is a large window at one end and a round stained glass window at the other end, and a loft offering additional seating for 25. You can arrange to have the ceremony in the chapel and then move to the sanctuary for the reception, or the chapel can be arranged as a combination ceremony and reception.
There is a room on the side of the chapel which can serve as a dressing room, an area where a buffet could be set up, or a staging area for the caterers. This room includes a small kitchenette.