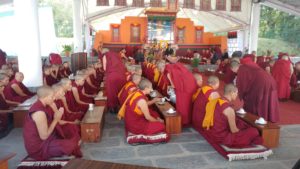 Brown Bag Travelogue  with Steve Wilhelm
Tuesday, January 2 @ 12:00 – 1:15 pm
Bring a sack lunch and enjoy a great presentation. All are weclome!
You're invited to a slide show on Jan. 2, to see evidence of real progress Tibetan nuns are making, as refugees in India. The slideshow will be about a trip I took to India in October of 2017, as a board member for Tibetan Nun's Project, to celebrate the organization's 30th anniversary.
The photos will tell a bit about that celebration, but more importantly will give some sense of how these 700 nuns have progressed. Thirty years ago they were arriving from China as battered refugees, many of them abused, penniless and illiterate. Now some of them are at the vanguard of women's empowerment in Tibetan culture. For the first time in the 1,200-year history of Tibetan Buddhism, in 2016 the first 20 nuns won "Geshema" degrees, the equivalent of a doctorate degree in the West. Until last year, only men won these degrees.
The slide show also will share a bit about travel in India, and some of the challenges that make it difficult, and rewarding. I hope to see you!
Second Saturday Social ~ Circle Supper
Saturday, Jan 13 @ 6:00 pm
Circle Suppers are potluck dinners in Northlakers' homes which offer you the opportunity to enjoy a meal and some one-on-one conversations with members of our Beloved Community.  It is a chance to deepen and strengthen the connections that make Northlake the community we love. If you would like to attend, please RSVP to Cyndy J. and let us know how many will be attending. Attendees are matched with hosts and the hosts will contact you with the particulars!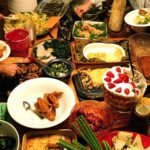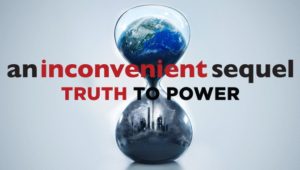 Meaningful Movies in Kirkland presents
An Inconvenient Sequel: Truth to Power
Friday, Jan 19 @ 7:00 pm
A decade after "An Inconvenient Truth" brought the climate crisis into the heart of popular culture comes the riveting and rousing follow-up that shows just how close we are to a real energy revolution. Former Vice President Al Gore continues his tireless fight, traveling around the world training an army of climate champions and influencing international climate policy. Cameras follow him behind the scenes — in moments private and public, funny and poignant — as he pursues the inspirational idea that while the stakes have never been higher, the perils of climate change can be overcome with human ingenuity and passion.
Social Justice Detention Center Vigil
Sat., Jan 27 @ 11:00 am – 5:00 pm
(includes travel time)
Up to 1,575 undocumented immigrants are held in this privately-owned, prison-like facility prior to deportation. Many want to stay in the US and apply to immigration court for relief from removal, a lengthy process that can take years for a decision.
At the vigil we offer refreshments, information, and a listening ear to family and friends who come to visit a detainee. We set up our canopy outside the fenced facility.
Please email Fran W. if you have any questions or would like to participate in some way. Volunteers can attend the vigil, help with copying information given to families, donate healthy juice boxes, donate small child-safe toys (like coloring books with small packs of crayons), help pack and/or unpack the supplies for the vigil, etc. There are a variety of ways to participate if you are unable to travel to Tacoma and would like to help. We like to carpool from the church, leaving at 11:00 am and returning by 5:00 pm.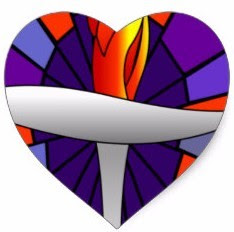 1st & 3rd Saturdays @ 9:00 am – NUUC Men's Group
WE WANT YOU…To consider becoming a part of the Northlake Men's Group.
The Men's Group exists to promote friendship and community among the men of Northlake Unitarian Universalist Church. This is not your ordinary men's group! There aren't many rules, just to be your authentic self. Men of all ages are welcome. Breakfast is served at each meeting. We typically meet on the first and third Saturdays of each month, from 9:00 – 11:00 a.m. The locations vary, as one meeting each month is hosted by different members of our group, usually in their homes, and the other is a "BYOB" (Bring Your Own Breakfast) at the church. Breakfast is followed by a check-in (what happens at Men's Group stays in Men's Group) and discussion of a topic of interest selected by the host or agreed upon by the group.
RSVP required for hosted meetings, not for BYOB.
Contact Steve R. for further information.