This page highlights a few upcoming events, but there is so much more going on at Northlake! Click a link below to see announcements about all our upcoming events.


(To stay in the loop, you can subscribe to our weekly announcements email, by contacting office@northlakeuu.org.) You can also find us on Facebook.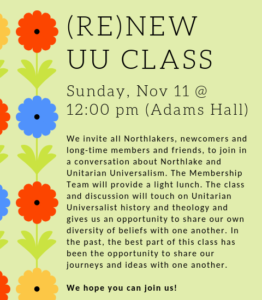 Meaningful Movies in Kirkland presents
Evolution of Organic
Friday, Nov. 16 @ 7:00 pm
Evolution of Organic is the story of organic agriculture, told by those who built the movement. The uplifting and entertaining film traces the organic sector from its counter-culture roots in the 1960s to the present day.
Looking towards the future, director Mark Kitchell sees great hope in carbon farming through organic agriculture and regenerative grazing. Plants grown using these regenerative methods capture the greenhouse gas carbon dioxide from the air and process it through photosynthesis into little stores of carbon, which travel down through the roots and into the soil to feed the micro-organisms, rather than polluting the atmosphere and contributing to global warming.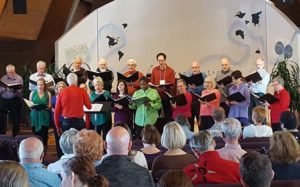 Join the Northlake Choir!
Practices are held 1st, 2nd, and 4th Sundays
12:30 – 2:30 pm.
In the Sanctuary.
All voices are welcome!
No experience required.