CHILDREN'S RELIGIOUS EDUCATION
Welcome to Northlake UU's Children's Religious Education
We strive to be a deeply connected and supportive religious education community that teaches the values of our religion and helps our children and youth find their own spiritual identity within an environment where they feel safe, accepted, respected and happy. Unitarian Universalist religious education is a process which celebrates our religious identity and forms a foundation for a lifelong search for truth and meaning. In our program we endeavor to:
• Instill a belief in the sacredness and interconnectedness of all life.
• Encourage participation in celebrations and rituals that mark life's passages.
• Build religious/spiritual knowledge based on Unitarian Universalism and other religions.
• Encourage adult participation in the life and growth of our youth.
• Develop leadership and democratic skills.
• Foster a sense of belonging to a wider community and the Universe.
Most Sundays, our children and youth begin the morning with the congregation in the sanctuary, and then go to their classrooms after a Time for All Ages.
We look forward to meeting you and your family. If you would like additional information or if you have questions, please contact Margaret Rogers, Director of Lifespan Religious Education by email or 425-822-0171.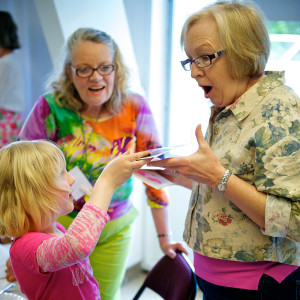 NURSERY
Northlake Unitarian Universalist Church provides childcare from birth through preschool, beginning at 10:00 a.m. for parents and caregivers attending the worship service. Children will be supervised by our nursery staff, and welcomed to play together and read. Parents and caregivers are invited to stay with their children as long as needed for everyone to feel comfortable in their surroundings. Children of visitors are welcome.
VISITORS
We love visitors! All visitors are asked to provide contact information before leaving children in the classroom. We ask visitors to try out Northlake for up to 3 visits, and then, if we are a good fit, we ask that visitors register their children for the Children's Religious Education Program.
ATTENDANCE
Help your child have a better experience by coming regularly. Regular attendance allows children to build relationships at church and permits more continuity between lessons. Please make Sunday morning church a family ritual.
REGISTRATION
Registration forms are available from any of the Religious Education classroom teachers and on the office door downstairs. You can also register online here. Please complete the form and give it to Margaret Rogers, the Director of Lifespan Religious Education.
CHILDREN'S COVENANT OF RELATIONS
We light this chalice to remind ourselves
to treat all people kindly, because they are our brothers and sisters;
to take good care of the earth, because it is our home;
to live our lives full of goodness and love because that is how we will become the best people we can be.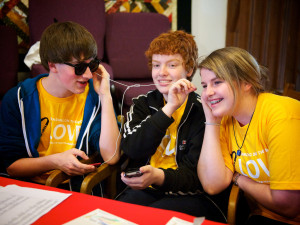 During the 2016 – 2017 school year, our Children's Religious Education classes will use a variety of curricula that draw from Unitarian Universalist Principles and Sources. Our program offers spiritual and ethical development, the creation of a Unitarian Universalist identity, and literacy in world religious traditions
The classes we will offer this year will be:
YOUNG EXPLORERS CLASS (NURSERY/PRESCHOOL)
Our Young Explorers class offers a fun environment for our youngest children (0-5 years old) to make new friends and play together.
CHALICE CHILDREN CLASS (generally for 3 - 6 year olds)
Our 3 – 6 year old class will be using the Chalice Children curriculum by Katie Covey, a Tapestry of Faith curriculum from the Unitarian Universalist Association.
Chalice Children delves deep into our Unitarian Universalist faith. It strives not just to teach about our faith, but also to provide experiences around the strength of community, the wonder and awe that transcend everyday understanding, and life issues we all share. The lessons in Chalice Children offer free play, circle time with a chalice lighting and lesson presentation, and activities and group games related to the day's lesson. Our goal for this age group is to play together and build friendships and community, while learning about the rituals and values of our Unitarian Universalist faith.
(This class offers an option between the nursery/preschool program and the Labyrinth Learning program for older children. Families can choose the class that would be the best fit for their children in this age range.)
LABYRINTH LEARNING CLASS (generally 1st - 5th grade)
Our Labyrinth Learning class is a mixed-age, multiple learning-styles program developed by Sara Lewis. Labyrinth Learning offers a short lesson presentation followed by time for students to choose a work-station, and a closing discussion in small groups. The Labyrinth Learning program touches on Unitarian Universalist history, how we live our Principles in community, and literacy in world religions.
MIDDLE AND HIGH SCHOOL YOUTH GROUP
Our middle and high school youth group students will focus on fellowship and discussion of values using a variety of curricula. We will also offer special events and field trips for youth throughout the year.