Children's Religious Education
CHILDREN'S RELIGIOUS EDUCATION
Register now for 2021-2022 Children/Youth Programming!
Please register your family for Children/Youth Religious Education here, then click on the links below to register each child/youth for specific programming:
This Week in Children's Virtual RE at Northlake…
March 13, 2022
Northlake is continuing to offer online programming for children and youth this year. For security reasons, we do not post or publish the zoom meeting links publicly. Please register to receive the links via email, or email Margaret Rogers for assistance.
Children's class (up to 5th grade)
Join us Sunday for our 9:45 am class as we explore the theme of Renewing Faith. We always recommend having some crafting materials nearby, which children are welcome to use while listening to the story and participating in the discussion (paper, crayons, markers, glue, odds and ends). We will have a chalice lighting, Joys and Sorrows, story and discussion. We hope to see you there!
Weekly Online Story time (K-5th grade)
Join us for Tuesday Story time at 5 pm (K to 5th graders). We read a story each week, then play games together! Email Margaret Rogers for the links.
Middle and High School Online Youth Group (grades 6-12th) @ 1 PM – 2 PM
Our Middle and High School Online Youth Group meets online weekly. Our theme for March is "Renewing Faith." Each week we light a chalice, share a check-in, and have a discussion on a topic related to our monthly theme. We also have time set aside to play a game together. We hope to see you there! Email Margaret Rogers for the link.
In-Person Youth Group Activities (grades 6-12th)
Northlake is now offering activities for youth to gather and reconnect in person. We have a monthly game night and we will be offering service project opportunities as well. Please register if you would like to be on the mailing list to receive information about in-person youth group.
---
Our Philosophy
We strive to be a deeply connected and supportive religious education community that teaches the values of our religion and helps our children and youth find their own spiritual identity within an environment where they feel safe, accepted, respected and happy. Unitarian Universalist religious education is a process which celebrates our religious identity and forms a foundation for a lifelong search for truth and meaning. In our program we endeavor to:
• Instill a belief in the sacredness and interconnectedness of all life.
• Encourage participation in celebrations and rituals that mark life's passages.
• Build religious/spiritual knowledge based on Unitarian Universalism and other religions.
• Encourage adult participation in the life and growth of our youth.
• Develop leadership and democratic skills.
• Foster a sense of belonging to a wider community and the Universe.
This year, although we are not meeting in person, we are committed to continuing to serve families through online children's and youth programming, supporting parents in religious and spiritual exploration at home with their children, and through online multigenerational worship services.
We look forward to meeting you and your family. If you would like additional information or if you have questions, please contact Margaret Rogers, Director of Lifespan Religious Education by email or 425-822-0171. Margaret also coordinates educational opportunities for adults.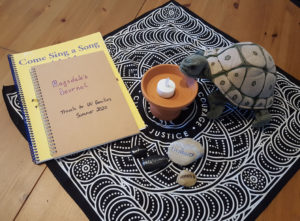 Children's Online Gathering @ 9:45 am Sundays, via Zoom
Our online Children's Religious Education classes for preschool and elementary school age children explore a variety of themes and values. We open each class with a chalice lighting and a time to share our joys and sorrows from the week. We then share a wisdom story and have a time for discussion of the story. We encourage children to bring some paper and colored pencils, crayons, markers, etc. and to feel free to use these during class as they listen to one another and share their ideas. Some of our class activities and games will also use these materials.
Middle and High School Online Youth Group @ 1 pm Sundays, via Zoom
Northlake is participating in online collaborative youth groups with UU congregations from around the area for the 2021-2022 year. Youth group gatherings emphasize making connections and having fun with other youth while exploring our values and identity as Unitarian Universalists.
Middle and High School Online Youth Group meets weekly on Sundays @ 1 pm.